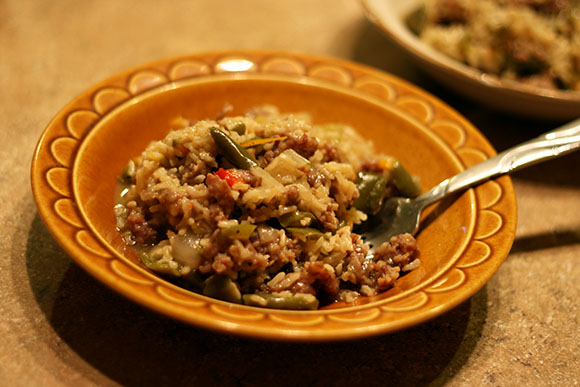 I'm finally back at my house in Arizona!  It's taken some time to unpack and settle in, although I'm nowhere near finished unpacking.  My house is a mess, but I needed to take a break and blog about this delicious Cajun Sausage and Rice dish that I made a couple days ago.  This recipe was inspired by something my mom had made recently.  She used smoked sausage instead of raw sausage, so either will work.  I hope you try this Cajun Sausage and Rice recipe in your kitchen too!
Ingredients:
18 oz Raw Bratwurst Sausage, casings removed
1 Onion, chopped
1 Bell Pepper, chopped
2 Stalks Celery, chopped
1 Cup Brown Rice
2 Cups Chicken Stock
1 Tablespoon Cajun Spice Blend (Emeril's Bayou Blast)
Black Pepper, to taste
Heat a large skillet over medium high heat.  Add the sausage and break apart with a wooden spoon.  Cook until browned, about 5 minutes.
Add onion, bell pepper and celery, cooking until slightly softened, 3-5 minutes.  Season with Cajun spice blend and black pepper.
Stir in rice and chicken stock.  Bring to a bubble, reduce heat and simmer covered until the rice is cooked, about 45 minutes.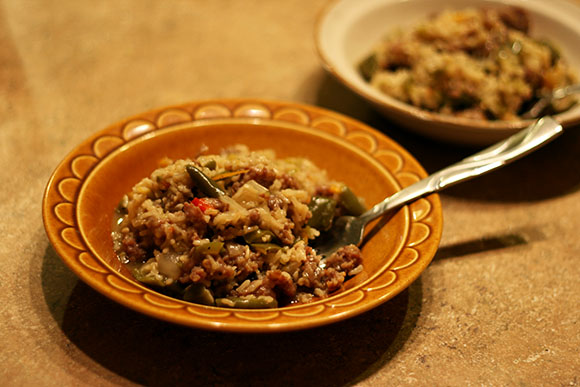 Serves: 4