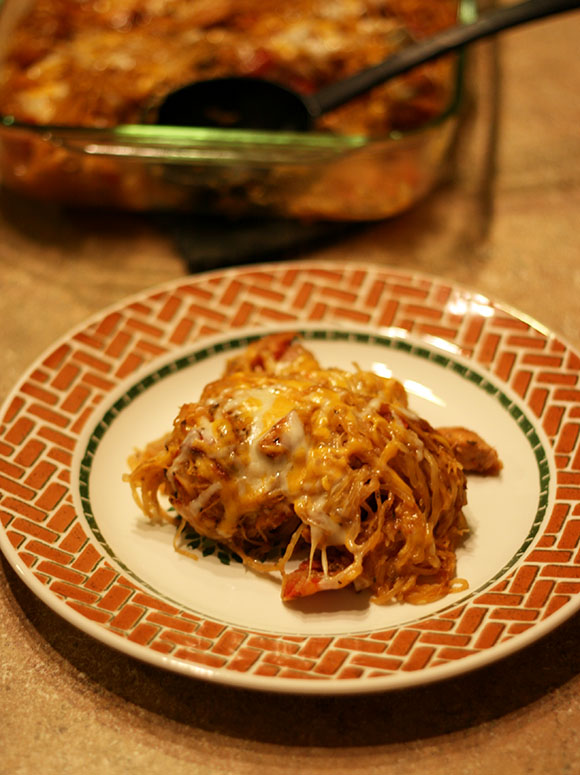 Spaghetti squash is quite delicious when it's not used as a spaghetti noodle substitute. Just because it looks slightly like spaghetti noodles doesn't mean it's a good idea to slather it with tomato sauce. Well, back to the Baked Spaghetti Squash and Chicken Casserole. This is a yummy casserole loaded with cheesy goodness! Enjoy!
Ingredients:
1 Spaghetti Squash, halved and seeded
1 lb Chicken Breasts, cubed
1 Cup Diced Bell Peppers
1/2 Onion, thinly sliced
1 Garlic Clove, minced
14 1/2 oz Can Diced Tomatoes, drained
1 Tablespoon Italian Seasonings
1/2 teaspoon Dried Oregano
1.2 teaspoon Dried Basil
Salt, to taste
2 1/4 Cups Shredded Colby Jack Cheese, divided
Preheat oven to 375°F. Place squash halves cut side down on a baking sheet. Bake until tender, about 40 minutes. Cool slightly and shred with a fork.
Reduce oven temperature to 350°F. Spray a casserole dish with nonstick cooking spray.
Heat a large skillet over medium high heat and brown the chicken. Add peppers, onion and garlic and cook until tender.
Stir in shredded squash and diced tomatoes. Remove from heat and stir in 2 cups shredded cheese. Transfer to the prepared casserole dish. Bake for 25 minutes.
Remove from oven, sprinkle on remaining 1/4 cup cheese an additional 5 minutes to melt cheese.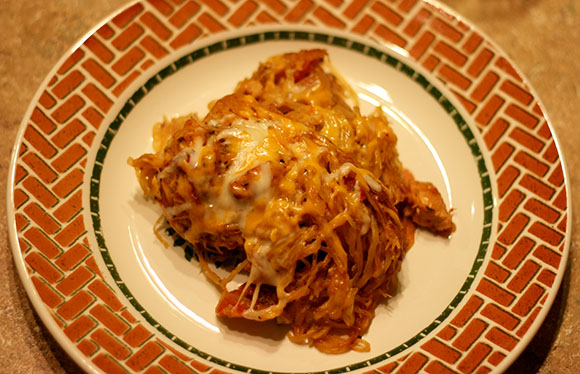 Serves: 6-8
Please follow and like us: