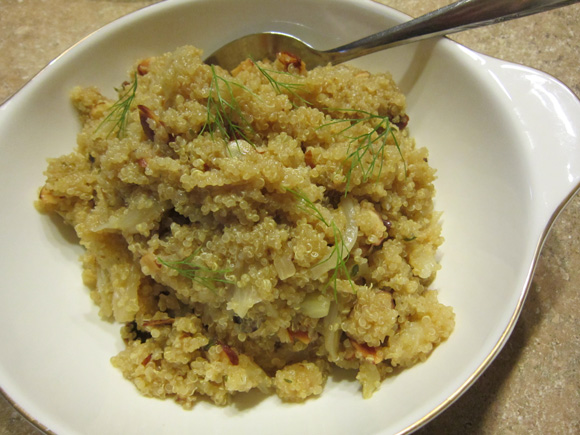 Quinoa (pronounced "keen-wah") is one of my new favorite foods.  You should give this little grain a try!
Ingredients:
1 Tablespoon Olive Oil
2 Garlic Cloves, finely grated
1 Large Fennel Bulb
2 1/2 Cups Vegetable (or Chicken Broth)
3 Fresh Thyme Sprigs
1 Cup Quinoa, rinsed in a mesh strainer
1/3 Cup Sliced Almonds
Cut the fronds off the the fennel bulb and peel of the outer layer of the bulb.  Reserve some of the fronds for garnish.  Cut the bulb in half and remove the core.  Thinly slice the fennel.
Heat the olive oil in a saucepan (one with a lid) over medium heat.  Add the garlic and saute for about 30 seconds.  Add the fennel and saute for about 3 minutes to soften.
Add the broth and thyme to the pan.  Bring to a bubble, reduce heat and simmer for 5 minutes.
Stir in the Quinoa.  Bring to a bubble, reduce heat to low and simmer until all the liquid is absorbed, about 20 minutes.  Remove the thyme sprigs.
Toast the almonds in the microwave for 1 1/2 minutes, stirring halfway through.
Stir in the almonds.  Garnish with some of the reserved fronds.
Serves: 4 as side dish
-Recipe comes from CookinCanuck.com–