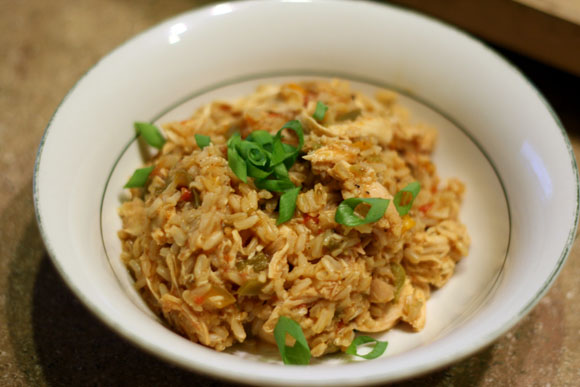 Arroz Con Pollo is a traditional Latin American dish made with chicken leg quarters.  In English, it's just rice with chicken, but it sounds so fancy to say Arroz Con Pollo.  Go ahead, say it with your best Spanish accent and see how suave you sound.  I'm always looking for ways to use already cooked and shredded chicken, so I adapted this dish to suit my needs.  Whole chickens are often on sale for ridiculously cheap, so I buy as many as the store allows and throw them in the slow cooker with a cup of water.  One chicken yields about 4 cups of shredded chicken, depending on the size of the bird.  After I shred the chicken, I put all the bones back in the slow cooker, fill it with water and let it cook for several hours to make my own chicken broth.  So, for just a couple dollars I have 4 cups of shredded chicken and a gallon of chicken broth.  This Arroz Con Pollo dish uses 2 cups of shredded chicken, so that one whole chicken is enough for two meals.  Score!  I get way too excited about chicken, but that's OK.  Remember, food is fun!
Ingredients:
2 Cups Shredded Cooked Chicken
1 Tablespoon Olive Oil
1 Onion, diced
2 Green Bell Peppers, seeded and diced
2 Anaheim Peppers, seeded and diced
1/4 teaspoon Crushed Red Pepper Flakes
1 Tablespoon Paprika
6 Garlic Cloves
1 teaspoon Salt
1 teaspoon Fresh Oregano (or 1/2 teaspoon dried)
1/2 teaspoon Black Pepper
8 oz Crushed Tomatoes
4 Cups Chicken Broth
2 Cups Brown Rice
1 Bunch Green Onions, sliced
Heat the olive oil in a large pot over medium heat.  Add the onion, bell peppers, Anaheim peppers, crushed red pepper and paprika.  Cook until softened, about 5 minutes.
While the onions and peppers are simmering, mash the garlic and salt together in a small bowl with the back of a spoon.  Stir in the oregano and pepper.  Add the shredded chicken to this garlic mixture.  Let sit for 15 minutes.
Stir in the crushed tomatoes, chicken broth, brown rice and chicken.  Bring to a bubble, reduce heat and simmer until the rice is cooked, about 45 minutes.
Garnish with green onions.
Yield: 6 Servings
-Recipe inspired by Cook's Illustrated Magazine-