Dessert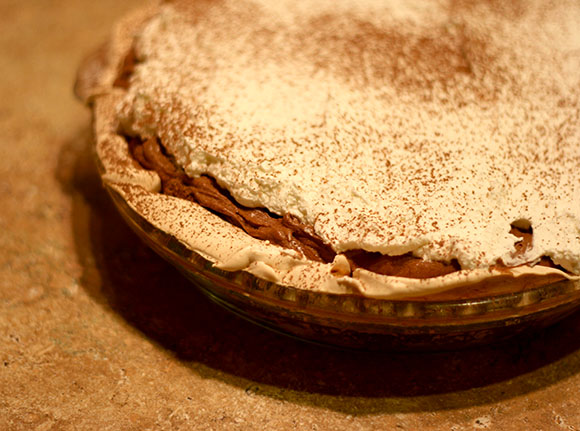 This Chocolate Angel Pie is really amazing.  It is made of a meringue crust which is filled with a sweet chocolate mousse filling and topped with homemade whipped cream.  It looks so fancy too!  I used chocolate chips for my pie, but a bar of chocolate would work too; just chop it before melting.  This Chocolate Angel Pie calls for 3 egg yolks in the filling, but save the whites for the meringue crust.  I have learned from watching America's Test Kitchen that it is best to chill your mixing bowl before whipping up heavy cream.  So, chill your bowl and get ready to make a delicious Chocolate Angel Pie.
Ingredients:
Filling-
9 oz Milk Chocolate
5 oz Bittersweet Chocolate
3 Egg Yolks
1 1/2 Tablespoons Sugar
1/2 teaspoon Salt
1/2 Cup Half-and-Half
1 1/4 Cups Heavy Cream
Meringue Crust-
1 Tablespoon Cornstarch, plus extra
1/2 Cup Sugar (3 1/2 oz)
3 Egg Whites
1 pinch Cream of Tartar
1/2 teaspoon Vanilla Extract
Topping-
1 1/3 Cups Heavy Cream
2 Tablespoons Powdered Sugar
Unsweetened Cocoa Powder
Prepare the filling by melting the milk chocolate and bittersweet chocolate in a large bowl in the microwave.  Heat at 50 percent power for 1 minute intervals.  Stir after each minute until melted.
In a medium bowl, whisk together egg yolks, sugar and salt for 1 minute.  In a small saucepan, heat half-and-half over medium heat until simmering.  Slowly whisk the warm half-and-half into the egg yolk mixture.  Pour back into the saucepan and heat over low until slightly thickened, about 1 minute.  Stir into the large bowl of melted chocolate.  Let cool slightly, 5-10 minutes.
Use a stand mixer with whisk to whip the heavy cream.  Start on medium-low until cream is foamy, about 1 minute.  Turn to high and whip until soft peaks form, about 1-3 minutes.  Gently whisk 1/3 of the whipped cream into the chocolate mixture.  Fold in the remaining cream until completely combined.  Cover and refrigerate for at least 3 hours.
Prepare the meringue crust now.  Lower oven rack to lowest position and preheat oven to 275°F.  Grease a 9 inch pie plate and dust with cornstarch.
Stir together sugar and cornstarch in a small bowl.  Add egg whites and cream of tartar to a stand mixer.  Whip with whisk attachment on medium-low until foamy, about 1 minute.  Turn to medium-high until the eggs are soft and billowy mounds, 1-3 minutes.  Slowly add sugar mixture and whip until stiff peaks form, 3-5 minutes.  Whisk in vanilla.
Spread meringue into the prepared pie plate, covering the bottom and sides completely and evenly.  Bake for 1 1/2 hours.  Rotate pie plate and reduce oven temperature to 200°F.  Bake until dry, about 1 hour.  Let cool for 30 minutes.
Pour chilled chocolate mixture into cooled meringue crust and spread evenly.
Prepare the topping by whisking together heavy cream and sugar with an electric mixer on medium-low until foamy, 1 minute.  Turn to high and whisk until stiff peaks form, 1-3 minutes.  Spread whipped cream evenly over the pie.  Refrigerate until chocolate filling is set, about 1 hour.
Dust with cocoa powder before serving.  Slice with a shape knife.  Serve within 3 hours of chilling.
Yield: 9 inch Pie – about 8-10 servings
Note: Between chilling and baking, give yourself about 5 hours to complete this pie.
-Recipe from Cook's Country magazine-
Tags: Chocolate, Dessert, Gluten Free, Pie
Jodi on December 19th, 2012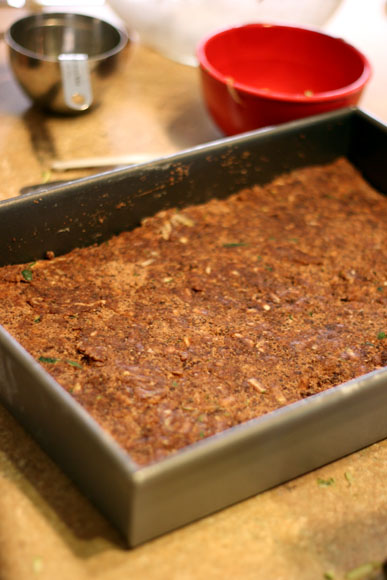 These Zucchini Brownies are actually quite delicious!  They are moist and don't taste like zucchini at all!  You could even shred the zucchini really small to hide it better if you like.  Zucchini Brownies are one of those healthy desserts that you just keep eating and eating and eating…is it still healthy if you eat half the pan?
Ingredients:
1/2 Cup Canola Oil
1 1/2 Cups Sugar
2 teaspoons Vanilla
1 teaspoon Kosher Salt
1 1/2 teaspoons Baking Soda
1/2 Cup Cocoa Powder
1 Cup All Purpose Flour
1 Cup Whole Wheat Flour
2 Cups Grated Zucchini
Preheat oven to 350°F.  Spray a 9 inch by 13 inch baking dish with nonstick cooking spray and dust with flour.
Stir together oil, sugar and vanilla in a large bowl.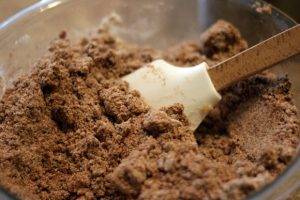 In another bowl, combine salt, baking soda, cocoa powder and both flours.  Slowly mix the dry ingredients into the wet.  This will be very dry when mixed together.
Add grated zucchini and mix until combined and moistened.  Transfer to the prepared pan and spread the batter evenly.
Bake until a toothpick inserted in the brownie comes out clean, about 25-30 minutes.
Yield: 9X13 Pan of Brownies
-Recipe by Savory Seasonings-
Tags: Chocolate, Cocoa Powder, Dessert, Whole Wheat Flour, Zucchini
Jodi on December 7th, 2012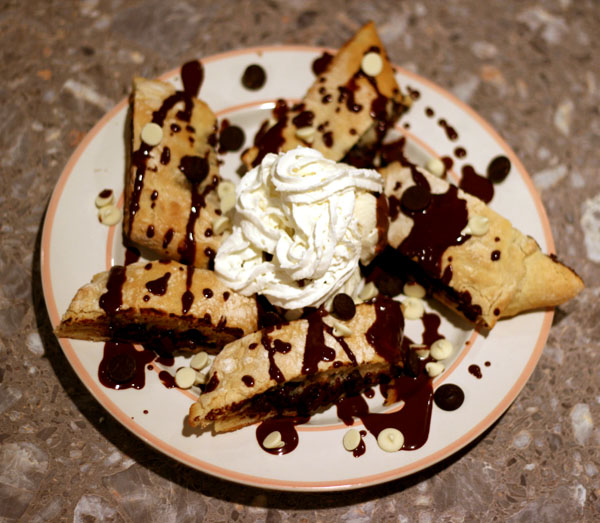 This Chocolate Chip Calzone recipe is a copy cat recipe of a dessert that Claim Jumper restaurant makes.  I love recreating recipes from restaurants!  Now you can make this Chocolate Chip Calzone at home too.
Ingredients:
Dough-
1/4 Cup plus 3 Tablespoons Warm Water
1 Tablespoon Honey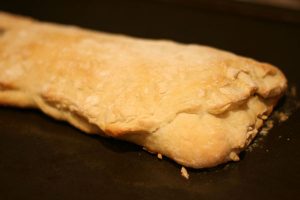 1/8 teaspoon Kosher Salt
1 teaspoon plus 1/8 teaspoon Yeast
1 1/2 teaspoons Extra Virgin Olive Oil
1 – 1 1/4 Cups Flour
2 Tablespoons Butter, softened
1 Cup Bittersweet Chocolate Chips, divided, plus extra for garnish
1/4 Cup White Chocolate Chips, plus extra for garnish
1/2 Cup Whipping Cream
Vanilla Ice Cream, for serving
Whipped Cream, for serving
Prepare the dough by stirring water and honey together until the honey is dissolved.  Whisk in salt, yeast and olive oil until combined.  Slowly add flour and knead until not sticky any more.  Cover loosely and let rise until doubled in size, at least 1 hour.
Preheat oven to 375°F.
Form dough into a rectangle, about 10 inches by 6 inches.  Spread softened butter over dough.  Fold in half.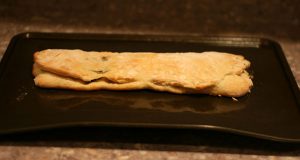 Form dough into a 12 inch by 8 inch rectangle.  Sprinkle 1/2 cup bittersweet chocolate chips and 1/4 white chocolate chips on half of the dough, along the longer side.  Fold in half to make a 12 inch by 4 inch folded calzone.  Bake until golden brown and delicious, about 15 minutes.
While the calzone is in the oven, prepare the chocolate drizzle by melting 1/2 cup bittersweet chocolate chips and 1/2 cup whipping cream together in a double boiler.  The bottom pot of the double boiler only needs 1 cup water in it.  Once melted, remove from from heat to thicken slightly.
To serve, slice the Chocolate Chip Calzone at an angle, garnish with additional bittersweet and white chocolate chips and drizzle with the chocolate sauce.  Also, serve with vanilla ice cream and a healthy amount (a lot) of whipped cream.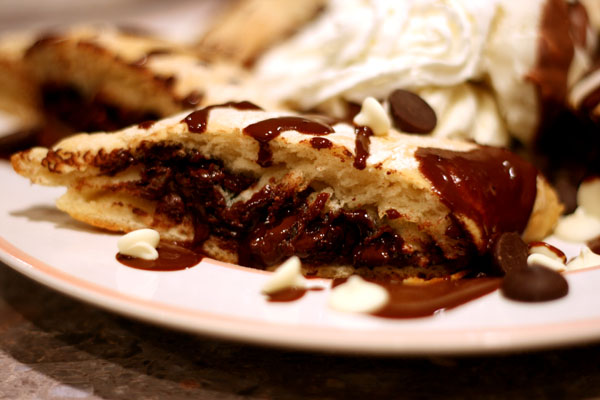 Yield: 2-4 Servings (or 1!)
-Recipe inspired by a dessert at Claim Jumper-
Tags: Calzone, Chocolate Chip, Claim Jumper, Claim Jumper Copy Cat, copycat recipe, Dessert
Jodi on November 16th, 2012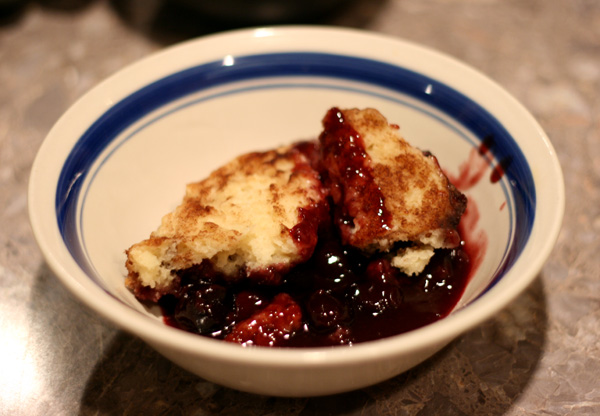 Cherry Grunt is very similar to a cobbler, except that the dumplings are steamed instead of baked and browned in the oven.  This delicious dessert is made even easier by cooking in the slow cooker.  This Cherry Grunt recipe comes from Cook's Country magazine and is perfect in every way.  Sweet delicious cherry filling that isn't soupy and perfectly steamed dumplings that are slightly crunchy without being soggy.  I am not a huge fan of cherry pie because it doesn't really taste like cherries.  This Cherry Grunt has tastes just like sweet delicious cherries.  I hope you try this recipe!
Ingredients: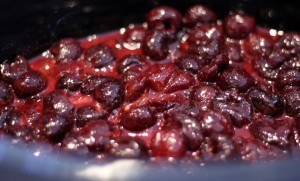 2 1/4 lbs Frozen Sweet Cherries
2 Cups All-Purpose Flour
1 Cup plus 3 Tablespoons Sugar
1 Tablespoon Lemon Juice
1 1/4 teaspoons Cinnamon
1 teaspoon Almond Extract
1 Tablespoon Baking Powder
1/2 teaspoon Salt
1/2 Cup plus 2 Tablespoons Milk
4 Tablespoons Unsalted Butter, melted and cooled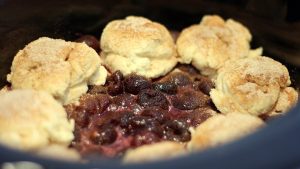 Stir together cherries, 1/4 cup flour, 1 cup sugar, lemon juice, 1 teaspoon cinnamon and almond extract together in a large bowl.  Microwave for 2 1/2 minutes, stir and microwave for another 2 1/2 minutes.  This will help the cherries to release some of their juices.  Stir well and transfer to a slow cooker.
Combine 1 3/4 Cups flour, 2 Tablespoons sugar, baking powder and salt together in a large bowl.  Spray a 1/4 cup measuring cup with non-stick cooking spray and drop 8 dumplings around the perimeter of the slow cooker.
Stir together 1 Tablespoon sugar and 1/4 teaspoon cinnamon in a small bowl.  Sprinkle on top of the dumplings.
Cover and cook on low for 4 hours.  The Cherry Grunt is done when a toothpick inserted in the dumplings comes out clean.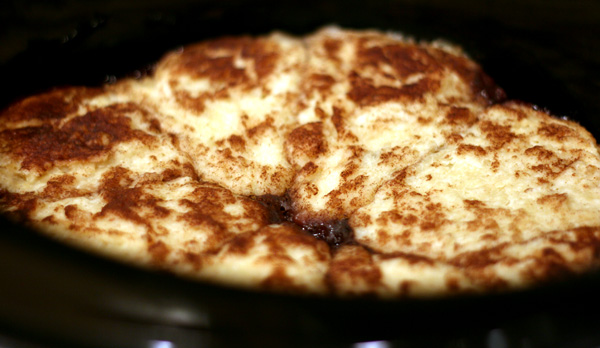 Don't forget to serve your Cherry Grunt with ice cream!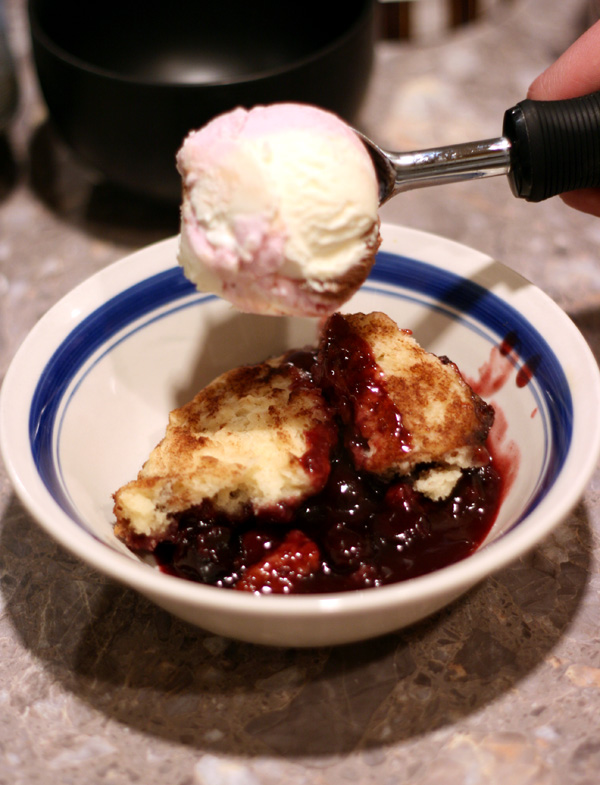 Yield: 6 Servings
-Recipe by Cook's Country Magazine-
Tags: Cherry, Dessert, Grunt, Slow Cooker
Jodi on November 9th, 2012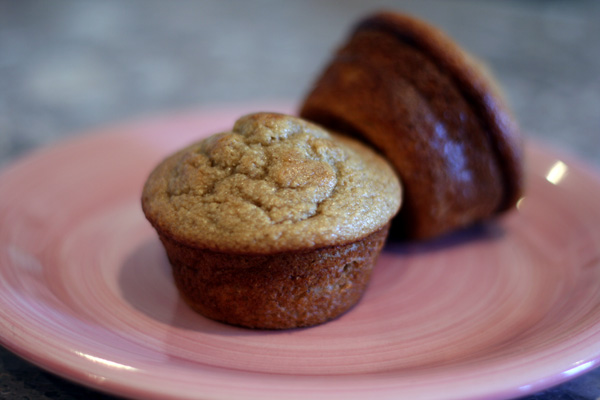 I'm always amazed with gluten free baked goods that don't seem to be gluten free.  No weird texture or taste with these Gluten Free Banana Oat Muffins.  You seriously wouldn't even know these Gluten Free Banana Oat Muffins were gluten free just by tasting them.  These couldn't be easier to make!  Just throw it all in the blender then bake.  Notice in the directions that it says to use silicone or foil muffin liners.  Don't use papers liners as they don't work so well with gluten free foods.  I really love the silicone baking liners.  They amaze me!  I've tried using other silicone bakeware, but haven't liked them because they are super floppy and can make a big mess.
Ingredients:
2 1/2 Cups Oats
1 Cup Plain Yogurt (Greek or Regular)
2 Eggs
3/4 Cup Sugar
1 1/2 teaspoons Baking Powder
1/2 teaspoon Baking Soda
2 Bananas
Preheat oven to 400°F.
Prepare a 12-cup muffin pan by spraying with non-stick spray or lining with silicone or foil liners.
Blend together oats, yogurt, eggs, sugar, baking powder, baking soda and bananas together in a blender or food processor.
Pour into prepared muffin pan.
Bake until a toothpick inserted in the center comes out clean, about 20-25 minutes.
Yield: 12 Muffins
-Recipe adapted from Dashing Dish-
Tags: Banana, Bananas, Breakfast, Dessert, Gluten Free, Muffins, Vitamix