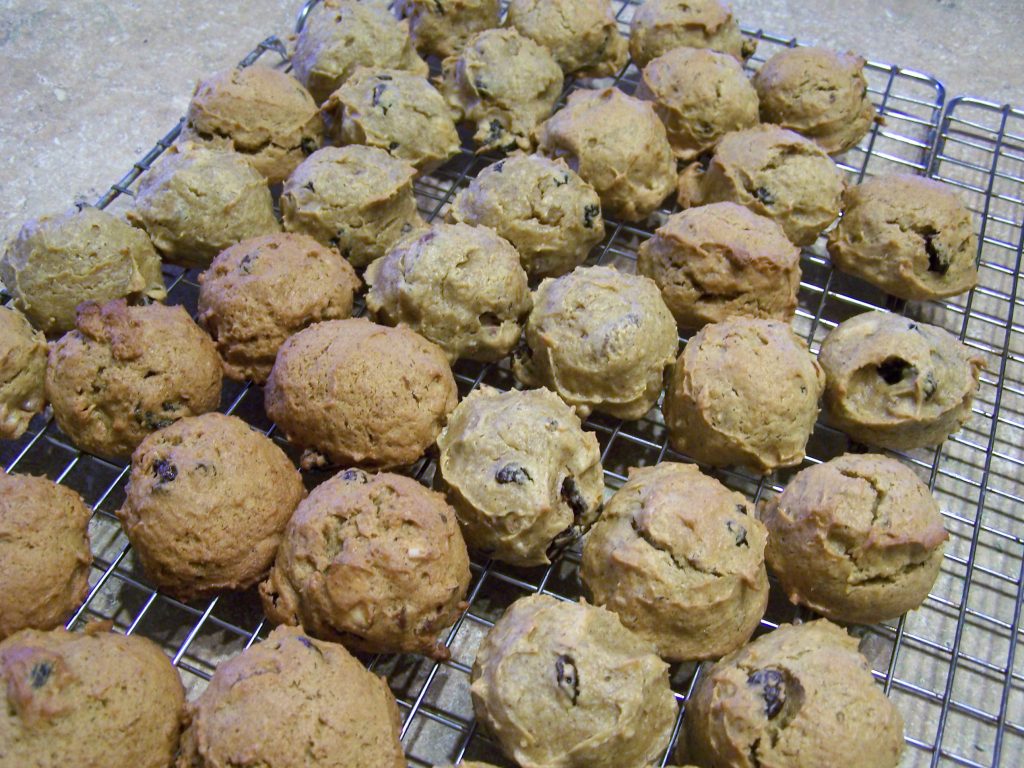 I had a ton of persimmons in my bountiful basket a few weeks ago and finally made something with them.  These cookies were very tasty even though I didn't care for raw persimmons.  I made a couple small changes to the original recipe I found.
Ingredients: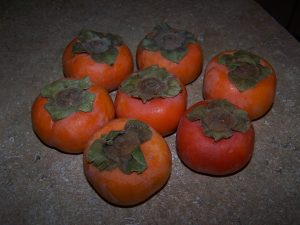 2 Cups All-Purpose Flour
1 teaspoon Baking Soda
½ teaspoon Salt
1½ teaspoon Cinnamon
½ teaspoon Freshly Grated Nutmeg
½ Cup Shortening
1 Cup Sugar
1 Egg
1 Cup Persimmon Pulp
1 Cup Chopped Nuts (Walnuts or Almonds)
1 Cup Raisins
Preheat oven to 350°F.
Line two baking sheets with foil and spray with non-stick cooking spray.
Combine the flour, soda, salt, cinnamon and nutmeg together in a medium bowl.
Using a hand mixer, cream together the shortening and sugar in a large bowl.  Beat in the egg then beat in the persimmon pulp.
Mix in the flour mixture in two additions until thoroughly incorporated.  Stir in the nuts and raisins.
Drop Tablespoon sized balls of dough onto the prepared cookie sheets.  The cookies don't spread, so they can be placed close together.
Bake until golden brown, about 15 minutes.  Cool on wire racks.
Yield: about 40 cookies
A note about persimmons: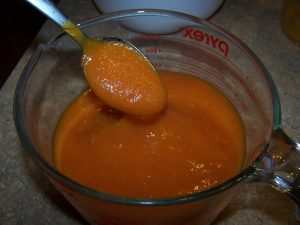 I used Fuyu Persimmons for this recipe.  They take a really long time to ripen enough for baking with.  I think they sat on my kitchen counter for a month before they were ready.  A Hachiya Persimmon is usually used for baking since they are a lot softer to begin with.  Either would work great for this though.  To make the pulp, I peeled the persimmons and then pureed them with an immersion blender.  A regular blender or food processor would work too.  If you use the Hachiya Persimmons, you would just need to scoop out the insides of the persimmon and blend it.  They are too soft to peel.