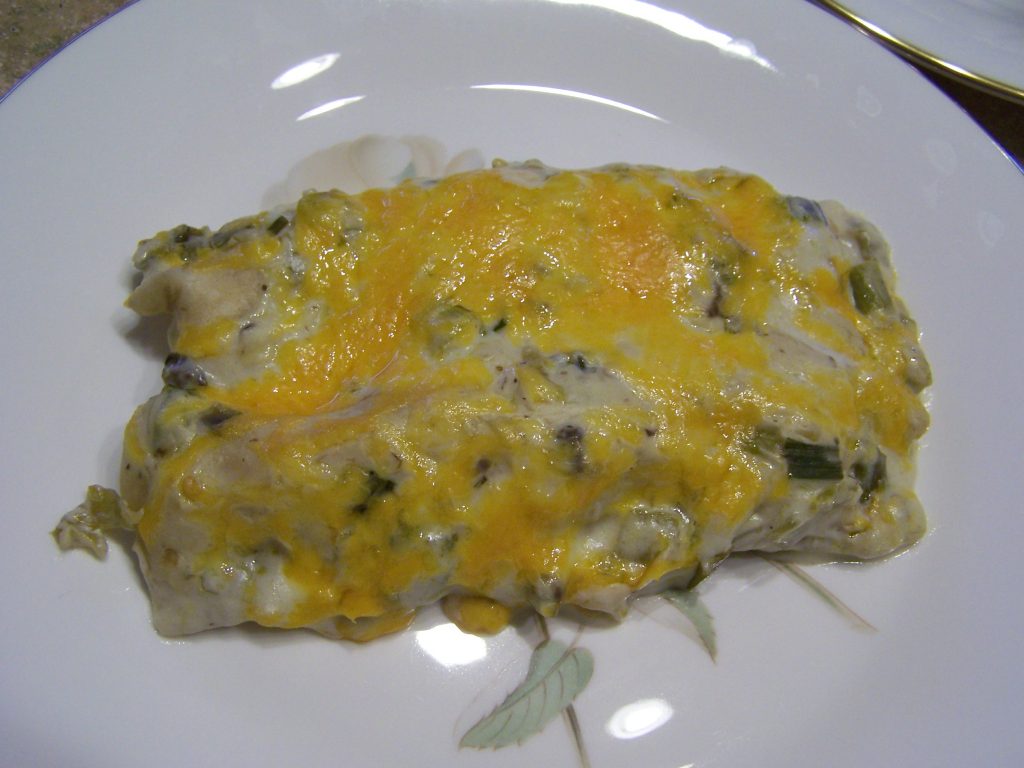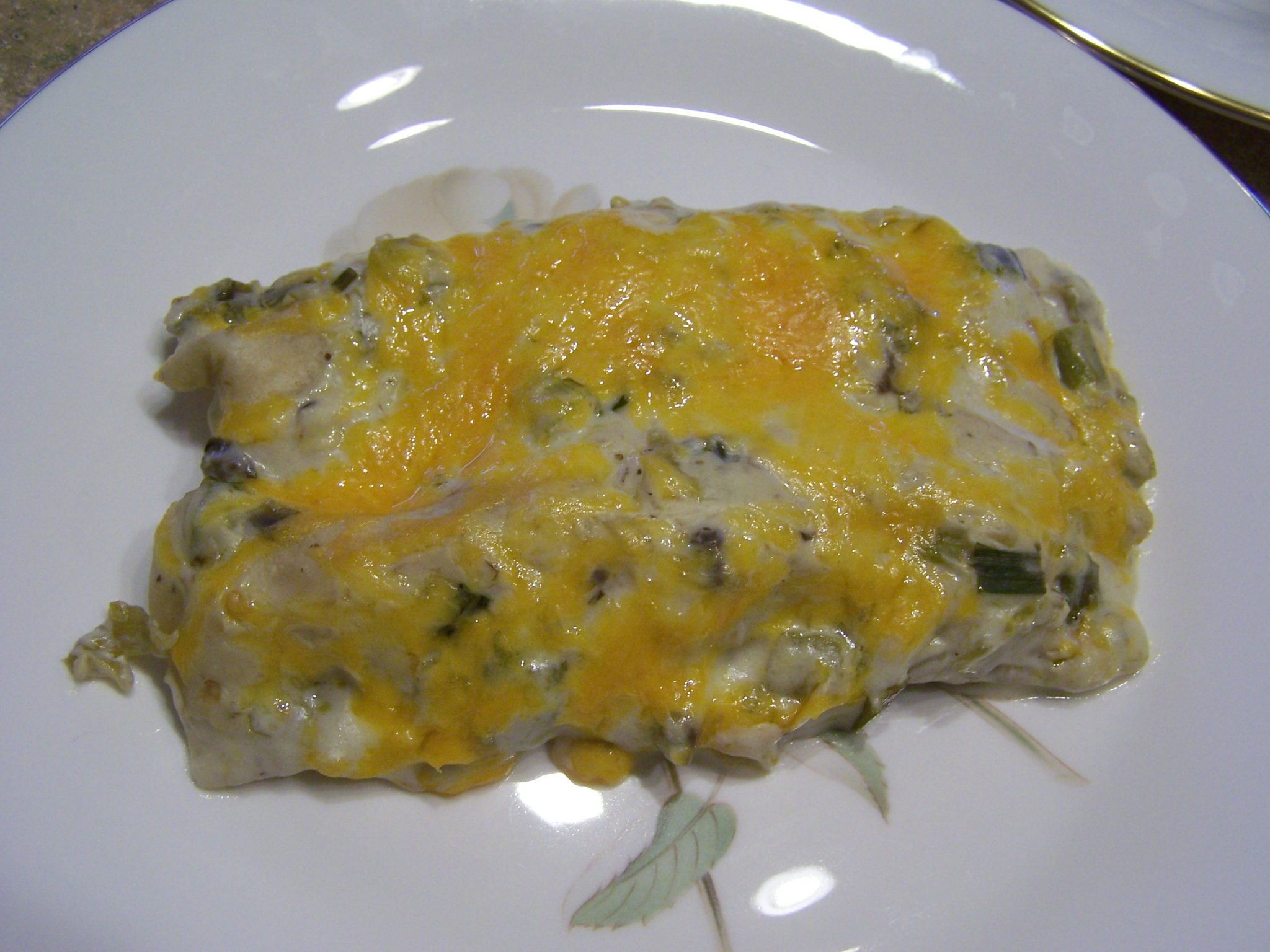 This is a recipe that I printed out many years ago when we first moved to Arizona.  I thought it was lost, but I was very happy to find it in my mom's recipe book.  They are enchiladas with a white sauce, instead of the traditional red sauce.
Ingredients:
1 Tbsp Extra-Virgin Olive Oil
1 lb boneless, skinless chicken breasts, cut into bite sized pieces
1 Tbsp butter
1/2 cup green onions (about 3), sliced
1/2 tsp garlic powder
1 (4oz) can diced green chilies
1 (10.75 oz) can cream of mushroom soup
1/2 cup sour cream
1 cup shredded cheddar cheese, divided
8 (6-8 inch) flour tortillas
1/4 cup milk
Preheat oven to 350°F and coat a 9X13 inch baking dish with non-stick spray.
In a large skillet, heat the olive oil over medium-high heat.  Add cut up chicken and cook until browned and no longer pink.
In a medium saucepan, melt the butter over medium heat.  Saute the green onions until tender, 3-4 minutes.  Stir in garlic powder, green chilies, cream of mushroom soup and sour cream.  Reserve 1 ¼ cups of the sauce in a bowl.  To the skillet with the remaining sauce, add the cooked chicken and 1/2 cup cheese.  Stir to combine.
Divide the chicken mixture evenly between the 8 tortillas.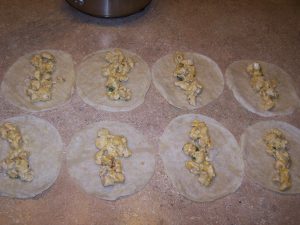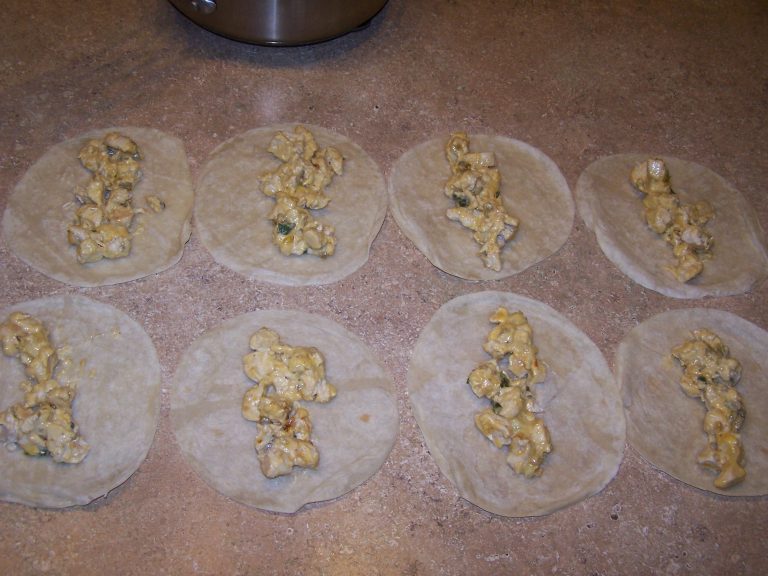 Roll up each tortilla and place seam side down in the prepared baking dish.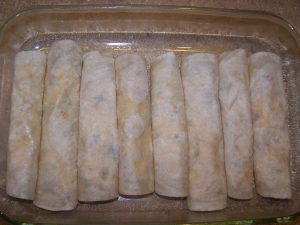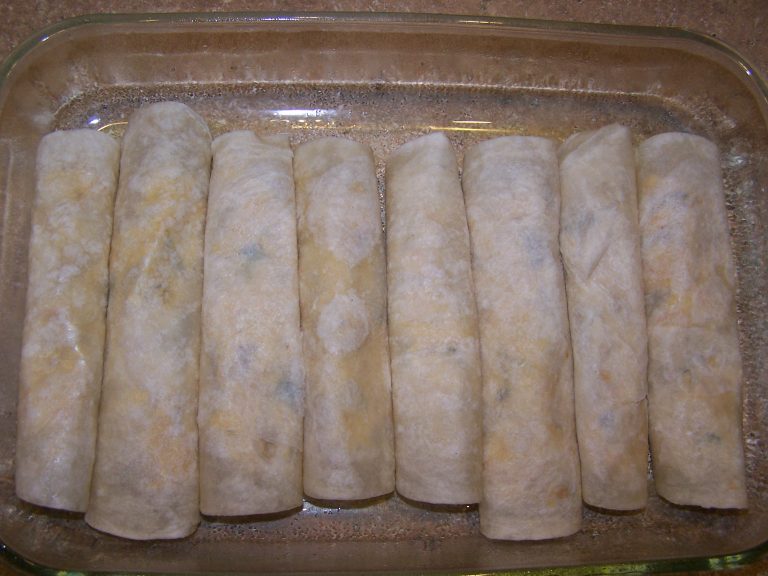 Add the milk to the bowl with the reserved sauce and stir to combine.  Spread over the rolled tortillas and sprinkle the remaining 1/2 cup cheese on top.
Bake until cheese is bubbly, about 20 minutes.
This makes 8 enchiladas.  Probably about 4 servings if you have a salad with it.  Robbie ate 3 enchiladas and I would have ate 3 if Chloe didn't eat a 1/4 of one of mine.  Chloe really liked them!