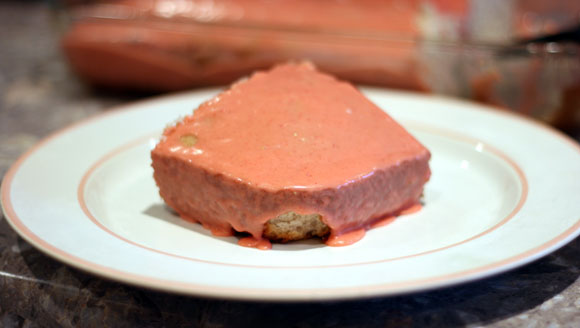 This strawberry cake is for Chloe's 3rd birthday, which was yesterday.  She had been requesting a strawberry cake for several weeks now, so I thought I would give it a try. I almost cheated and bought a strawberry cake mix.  I saw it sitting there on the shelf staring at me and it cost less than the box of cake flour in my basket.  It was tempting with the little doughboy on the box with his sweet smile, but I couldn't do it…I had to make my own strawberry cake for my sweet Chloe's birthday.  I have to admit that my first attempt was a complete and utter disaster.  It was the saddest looking cake ever.  It didn't rise at all, it was somewhat uncooked in the middle and it was crispy around the edges.  It sat on the counter looking pitiful for several hours.  I kept walking by it trying to decide if it was salvageable.  There was no saving this baking tragedy.  I trashed the first recipe and started from scratch.  I figured it couldn't get worse than the first cake.  The second attempt was not only much better, but it was delicious.  Chloe got everything she wanted for her birthday, a strawberry cake, a floaty balloon and a picture of a duck colored by mom.  We got those magic relighting candles for Chloe's cake, which she thought was awesome since she could blow out the candles many times.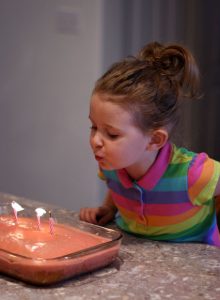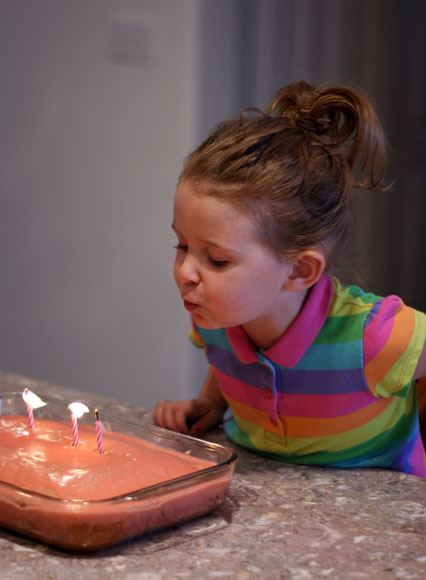 Ingredients: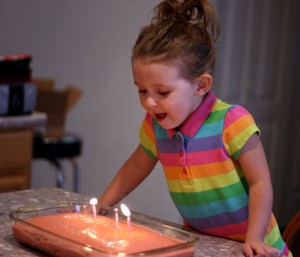 Cake:
1 Heaping Cup Whole Strawberries
1/2 Cup Milk
4 Eggs
2 teaspoons Vanilla
2 3/4 Cup Cake Flour
1 3/4 Cup Sugar
2 teaspoons Baking Powder
3/4 teaspoon Salt
3/4 Cup Unsalted Butter, softened and cut into 1/2 inch slices
Strawberry Glaze:
4 Strawberries
1 Cup Powdered Sugar
2 Tablespoons Butter, melted
1/2 teaspoon Vanilla
Preheat oven to 350°F.
Blend the strawberries and milk together in a blender or food processor.  Add the eggs and vanilla and pulse a few times to combine.
In a large bowl, combine the flour, sugar, baking powder and salt together.  Add the butter and mix with an electric mixer until the mixture looks like coarse crumbs.
Add the strawberry mixture and mix on medium speed for about 1 minute to combine.
Pour into a 9×13 inch baking dish and bake for 25-30 minutes.  This can also be baked in 2 round cake pans, although cooking time may need to be decreased slightly.
Cool completely.
Prepare the glaze by combining the strawberries, powdered sugar, butter and vanilla together in a blender or small food processor.  Mix until smooth.  Pour glaze on cake.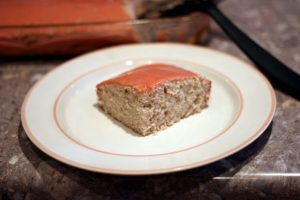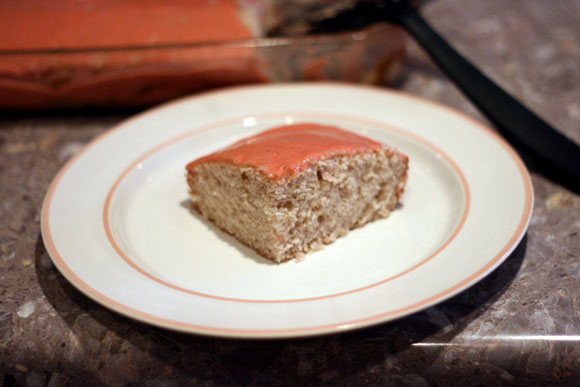 Yield: 1 Cake