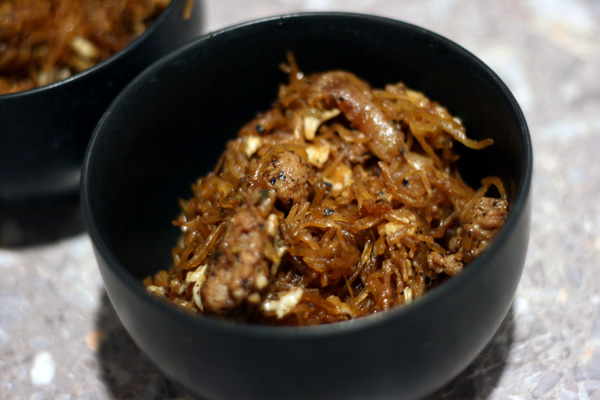 Spaghetti Squash with Sausage is super delicious!  This is my new favorite way to eat spaghetti squash.  When I made this, I cooked the squash differently than described below.  I cut it in half before roasting, but it was a huge mistake because I chipped my ceramic knife by doing so.  I do not suggest using a ceramic knife to cut spaghetti squash.  Go down to your local hardware store and buy a nice saw for squash cutting if you plan to cut them open before roasting.  I think I will just stick with roasting them whole from now on to make this yummy Spaghetti Squash with Sausage dinner.
Ingredients:
1 Spaghetti Squash
1 Tablespoon Olive Oil
1 Onion, thinly sliced
4 Garlic Cloves, minced
2 Uncooked Italian Sausages, casings removed
1 Cup Parmesan Cheese, grated
1 Tablespoon Italian Seasoning
Salt & Pepper, to taste
Preheat oven to 375°F.
Poke several holes in the squash with a fork.  Place on a baking sheet and bake until tender, about 1 hour.
After the squash has been in the oven about 30 minutes, heat olive oil in a large skillet over medium/high heat.  Add the onion and cook until softened and browned.  Add the garlic and cook for about 30 seconds.  Add sausage, breaking it up with a wooden spoon.  Cook until the sausage is browned.  Sprinkle in the Italian seasoning.
When the squash is tender, cut in half lengthwise.  Scoop out and discard the seeds.  Shred the squash with a fork and add to the skillet.  Season to taste with salt and pepper.
Remove from heat and stir in the Parmesan cheese.
Serves: 4