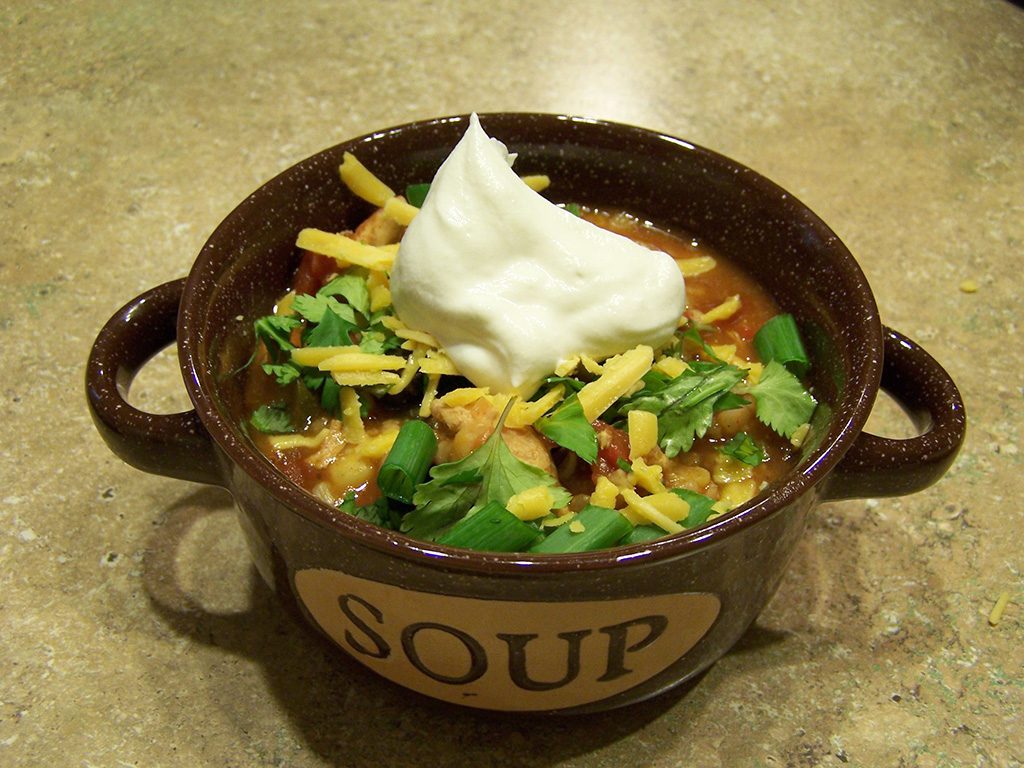 This soup is my version of a soup that a friend of mine makes.  It is seriously the best soup I have ever made!  I really think it could have used some avocado on top though.  Maybe next time I will add that.  I'm sure I will be making this many more times.  I hope you make this soup and enjoy it too!
Ingredients:
1-2 Tablespoons Extra-Virgin Olive Oil
1½ lbs Chicken Breasts, Cut Into Bite Sized Pieces
1 Medium Zucchini, Chopped
6 Cups Chicken Stock
1 (11 oz) Can Mexicorn
1 (14.5 oz) Can Diced Tomatoes
1 (14.5 oz) Can Diced Tomatoes With Green Chilies
1 (15.5) oz Can Chili Beans
1 (6.5 oz) Can Sliced Black Olives, Drained
1 Cup Brown Rice
Salt & Pepper
2 Tablespoons Chili Powder
1 teaspoon Paprika
½ teaspoon Cumin
¼ teaspoon Crushed Red Pepper
1 teaspoon Poultry Seasoning
1 teaspoon Garlic Powder
For Toppings –
Sour Cream
Shredded Cheddar Cheese
Tortilla Chips
Chopped Avocado
Cilantro
Sliced Green Onions
Heat the olive oil in a large soup pot over medium-high heat.
Add the chicken, cooking until browned.  Add the zucchini and cook until softened, 2-3 minutes.
Stir in the chicken stock, Mexicorn, both cans of diced tomatoes, beans, olives, rice, salt, pepper, chili powder, paprika, cumin, crushed red pepper, poultry seasoning and garlic powder.  Bring to a boil.  Reduce heat to medium-low, cover and simmer until rice is cooked, abut 45 minutes.
Serve with the toppings.
Serves: 6