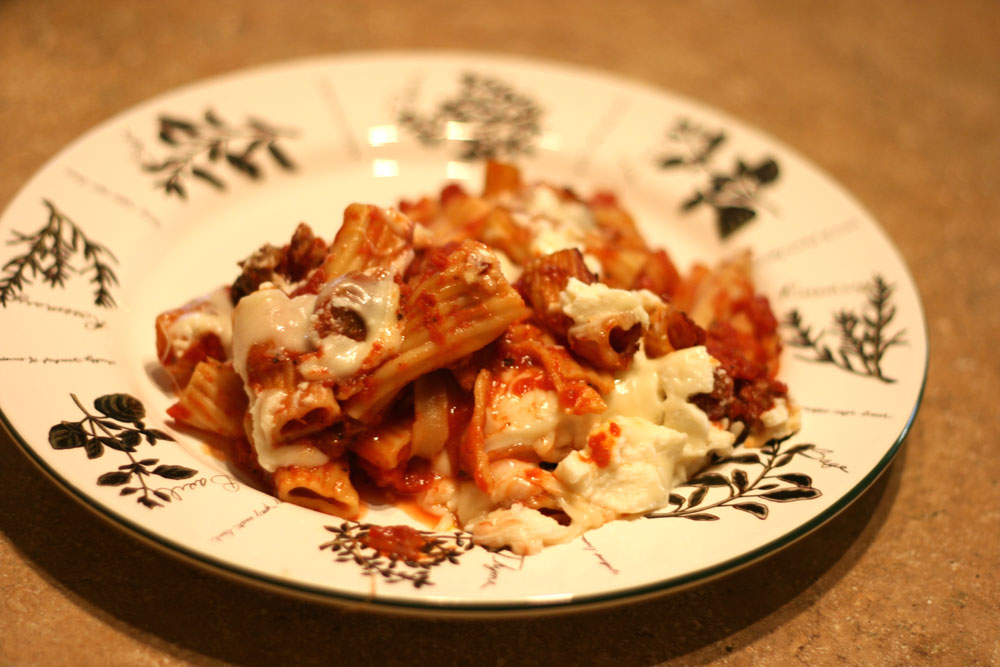 Delicious, baked ziti from the slow cooker?  Yes!  It's delicious and the pasta cooks just perfectly. I make this when the kids are napping so I don't have to cook while they are awake and needing my attention. Then we can play and enjoy the afternoon while dinner cooks itself.
Ingredients:
2 Tablespoons Olive Oil
1 lb Hot or Sweet Italian Sausage, casings removed
1 Onion, chopped
3 Garlic Cloves, minced
½ teaspoon Dried Oregano
½ teaspoon Salt
½ teaspoon Pepper
8 oz Ziti
28 oz Can Crushed Tomatoes
15 oz Can Tomato Sauce
8 oz Whole-Milk Ricotta Cheese
4 oz Mozzarella Cheese, shredded
2 Tablespoons Basil, sliced for garnish
Fold 2 (18 inch) pieces of aluminum foil in half lengthwise.  Line the perimeter of the slow cooker with the foil and spray with non-stick cooking spray.  This will prevent burning.
Heat olive oil in a large pot over medium-high heat.  Add the sausage, break it up into pieces and cook until browned.  Add onion and cook until lightly browned.  Season with garlic, oregano, salt, and pepper.  Cook for another minute.
Reduce heat to medium-low and add the ziti.  Stir and cook until the edges of the pasta become translucent, about 4 minutes.  Turn off the heat and stir in crushed tomatoes and tomato sauce.
Pour into the prepared slow cooker.  Cover and cook on low for 3 hours.
Remove the foil from the slow cooker.  Spoon dollops of ricotta over the pasta and top with mozzarella cheese.  Cover and let the cheese melt for about 20 minutes.  Garnish with basil.
Serves: 6