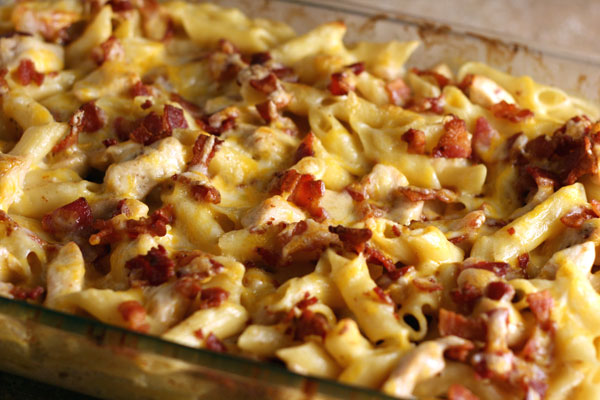 So delicious!
Ingredients:
12 oz Penne
6 Thick Cut Slices Bacon
2 Cloves Garlic, minced
2 lbs Chicken Breasts, cut into bite sized pieces
4 Tablespoons Butter
1/4 Cup Flour
2 Cups Whole Milk
1 Cup Chicken Broth
2 Cups Shredded Cheese, divided (1 ½ cups poured into sauce and ½ cup on top)
Salt and Pepper, to taste
Preheat oven to 400°F.
Bring a large pot of water to a boil.  Salt water, add pasta and cook until al dente.  Drain and reserve.
While the pasta is cooking.  Heat a large skillet over medium/high heat.  Cut bacon into ½-1 inch pieces.  Cook until crisp and remove with a slotted spoon onto a paper towel lined plate.  Leave the bacon fat in the pan.
In the same skillet over medium/high heat, add garlic and cook for about 30 seconds.  Add chicken, cooking until browned.
While the bacon and chicken is cooking, make the sauce by melting the butter in a medium size saucepan over medium/high heat.  Whisk in flour and cook for 1 minute.  Whisk in broth and milk.  Bring to a bubble, reduce and simmer until thickened.  Add 1 ½ cups shredded cheese, stirring to melt.  Season with salt and pepper to taste.
Combine the pasta, chicken and sauce together in a 9×13 inch casserole dish.  Top with bacon then remaining cheese.  Bake until the cheese is melted and delicious, about 20 minutes.
Yield: 6-8 Servings