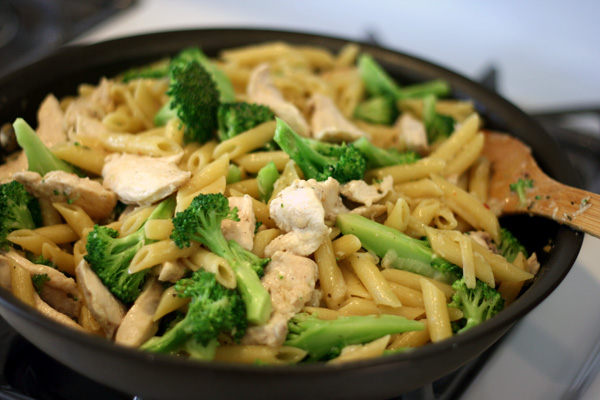 Everyone loves a good one-pot meal for a quick and easy weeknight dinner.  This Skillet Penne with Chicken and Broccoli cooks all in the same skillet in just under 30 minutes total.  Dinner doesn't get much easier than this!  Garlic is a main flavor in this Skillet Penne with Chicken and Broccoli, as there are 6 cloves of fresh garlic in there.  The garlic creates a delicious base for this meal.  There is also a bit of heat from the red pepper flakes, although not too overpowering.  Skillet Penne with Chicken and Broccoli is a simple, classic Italian meal with tons of flavor that I hope you enjoy.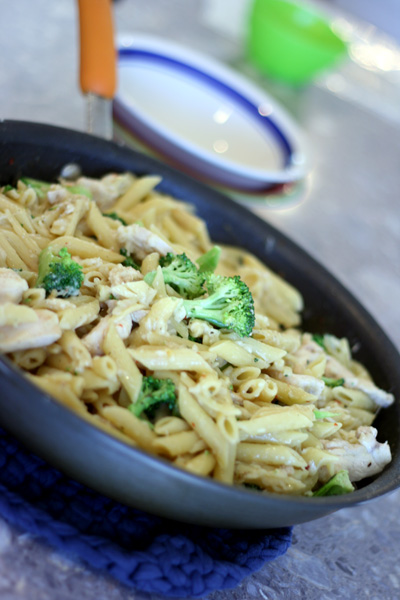 Ingredients:
1 lb Boneless, Skinless Chicken Breasts
1/4 Cup Olive Oil
1 Onion, thinly sliced
6 Garlic Cloves, minced
1/4 teaspoon Red Pepper Flakes
1/4 teaspoon Dried Oregano
2 1/2 Cups Chicken Broth
2 1/2 Cups Water
8 oz Penne
8 oz Broccoli Florets, cut into 1 inch pieces
1 Cup Grated Parmesan Cheese
Thinly slice the chicken breasts and season with salt and pepper.  Heat 1 Tablespoon olive oil in a large skillet over medium/high heat.  Once hot, add the chicken and let brown for 1 minute without moving it.  Stir and let cook another 2 minutes.  Reserve on a plate.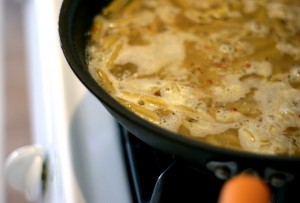 Add 1 Tablespoon of olive oil to the same skillet over medium heat.  Add onion and 1/2 teaspoon salt, cooking until softened, about 5 minutes.  Add garlic, red pepper flakes and oregano and cook for about 30 seconds.  Pour in 1/2 cup broth and simmer until some of the liquid is evaporated.  Add the remaining broth, water and penne.  Simmer over medium/high heat until the pasta is almost cooked, about 12 minutes.
Add the broccoli and chicken with any juices from the plate.  Simmer until the pasta and broccoli are tender and the chicken is heated and cooked through.  Remove from the heat and stir in the remaining 2 Tablespoons olive oil and the Parmesan cheese.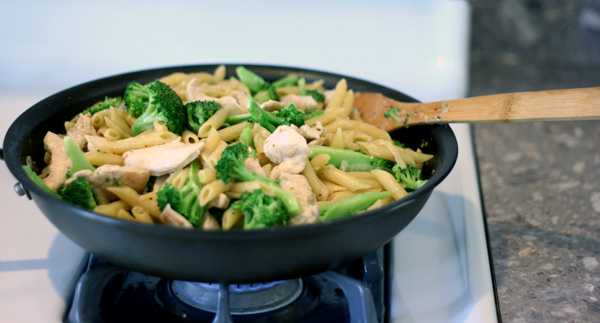 Yield: 4 Servings
-Recipe adapted from Cook's Country magazine-