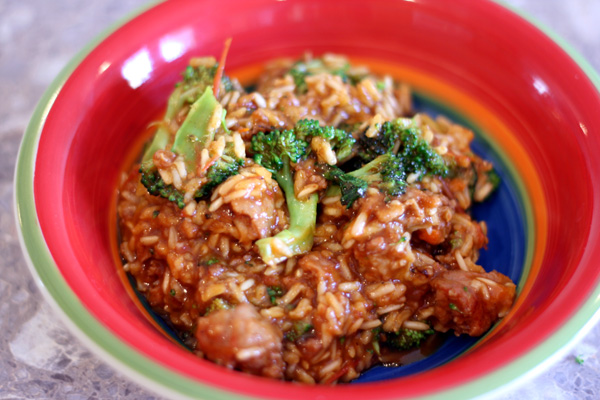 This Sausage and Broccoli Risotto is a rich and creamy meal.  The sweet Italian sausage gives this dish a fantastic flavor.  You could even use a spicy sausage to give the Sausage and Broccoli Risotto a kick!  The broccoli is stir-fried quickly, so it retains some crunch when the risotto is finished.  This Sausage and Broccoli Risotto is seriously delicious.
Ingredients:
8 Cups Chicken Broth
3 Tablespoons Unsalted Butter, divided
1 Head Broccoli, cut into small florets
3 Sweet Italian Sausages, about 1 lb
1/2 Medium Onion, finely chopped
1 Medium Carrot, finely chopped
1 Cup Brown Rice
1 Clove Garlic, minced
1 (14 oz) Can Diced Tomatoes
3/4 Cup Parmesan Cheese, grated
Bring the chicken broth to a bubble in a sauce pan over high heat.  Reduce heat to low to keep warm.
Heat 1 Tablespoon butter in a large pot over high heat.  Add the broccoli and cook, stirring frequently until tender, 3-4 minutes.  Reserve on a plate.
Remove the casings from the sausages.  Add the sausage, onion and carrot to the pot.  Cook until the sausage is browned, about 5 minutes.
Stir in the rice and garlic, cooking for 1 minute.  Pour in the diced tomatoes, bring to a bubble and simmer for a couple minutes.
Start adding the warm broth, a ladle at a time.  Stir the rice each time broth is added and let cook until almost all the broth is absorbed before adding more.  Keep adding broth until the rice is softened and creamy, about 45 minutes.
Remove from the heat and stir in the remaining 2 Tablespoons butter, Parmesan cheese and broccoli.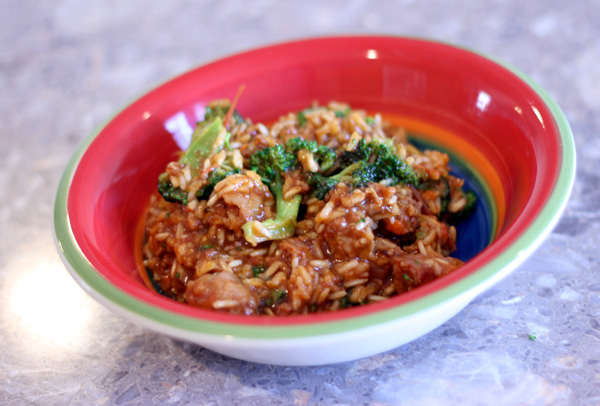 Yield: 4 Servings
-Recipe inspired by a recipe in Food Network Magazine-