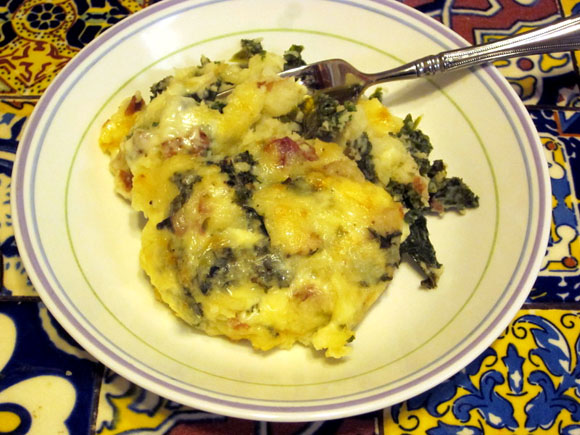 "Rumbledethumps is a traditional dish from the Scottish Borders. The name rumbledethumps apparently comes from the noise made in the kitchen as the potatoes and cabbage are rumbled and thumped in the preparation." –http://culinarytravels.co.uk/2010/02/17/haggis
Ingredients:
4 lbs red potatoes, diced in 1/2-3/4″ cubes
1 large bunch Kale, washed, deveined and roughly chopped
2 Tbl butter
1 tsp chopped garlic
1-2 oz Neufchatel cream cheese
1/2 cup 1% milk
1/2 tsp onion powder
dash nutmeg
salt and pepper to taste
4-6 oz Monterey Jack cheese, grated
Preheat Oven to 350°F.
In large pot, place potatoes and enough water to cover them plus at least 2-3 inches. Bring to a boil, reduce to a simmer and cook until tender, about 10 minutes.
Meanwhile, in large skillet, melt butter over medium heat, add garlic, cook 30 seconds, or until fragrant. Add chopped kale, stir continuously, cooking until bright green, about 5-7 minutes. Turn off burner.
Drain potatoes, add to kale along with cream cheese, milk, onion powder, nutmeg, salt and pepper to taste. Mash the whole kit-n-caboodle up together. Turn into a greased casserole dish (mine was a deep 8×12 glass dish)
Sprinkle the whole thing with grated cheese. Bake in 350°F oven for 30 minutes, or until golden brown on top.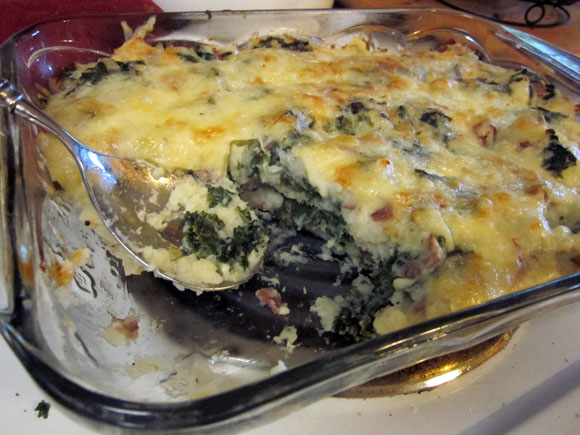 Serves: 6 as a main dish, more as a side.