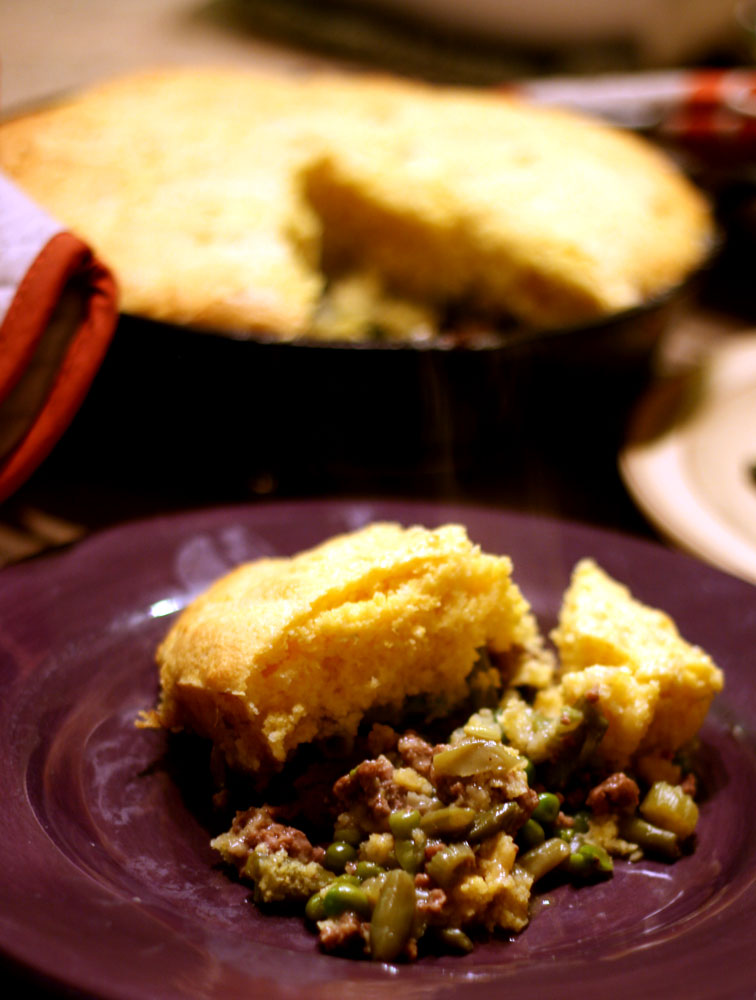 Ingredients:
2 Boxes Jiffy Cornbread Mix
2 Eggs
⅔ Cup Milk
¾ lb Ground Beef
3 Stalks Celery, chopped
1 lb Green Beans, stems removed and cut into 1-2 inch pieces
2 Tablespoons Butter
2 Tablespoons Flour
2 Cups Beef Broth
1 Cups Peas
Salt & Pepper
Preheat oven to 375°F.
Whisk together cornbread mix, eggs, and milk together in a large bowl.  Set aside.
Brown beef in a large oven-proof skillet over medium/high heat.  Add celery and green beans.  Cook until softened, about 5 minutes.
Move the veggies and meat to the sides of the pan and melt the butter in the middle.  Whisk in the flour and cook for 1 minute.  Whisk in broth, bring to a bubble and let thicken.  Stir in peas and season with salt and pepper.
Spoon the cornbread batter onto the top of the meat and veggie mixture.  Bake until browned, about 20 minutes.
Yield: 6 Servings