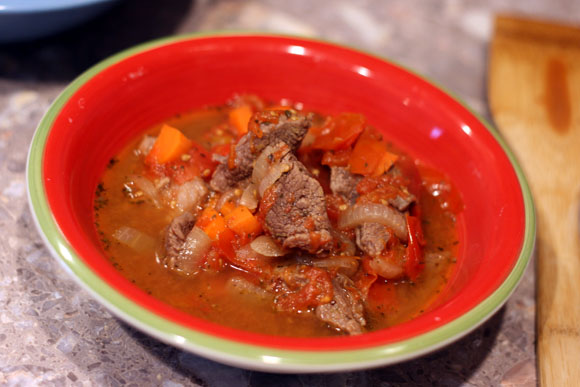 Here is a basic beef stew recipe.  This could even be made in the slow cooker to make it even easier.
Ingredients:
1 Tablespoon Olive Oil
1 Large Onion, thinly sliced
1 Clove Garlic, minced
1 lb Beef Stew Meat
2 Carrots, chopped
1 Cup Beef Stock
2 (14 oz) Cans Diced Tomatoes
2 teaspoons Italian Seasoning
Heat the olive oil in a soup pot over medium-high heat.  Add the onion and garlic.  Saute until soft.
Add the beef and cook until browned.  Add the carrots, stock, tomatoes and Italian seasoning.  Bring to a bubble, reduce heat and cover pot.  Simmer on low for 1 hour.
Yield: 4 Servings
-Recipe adapted from Paleo Plan–