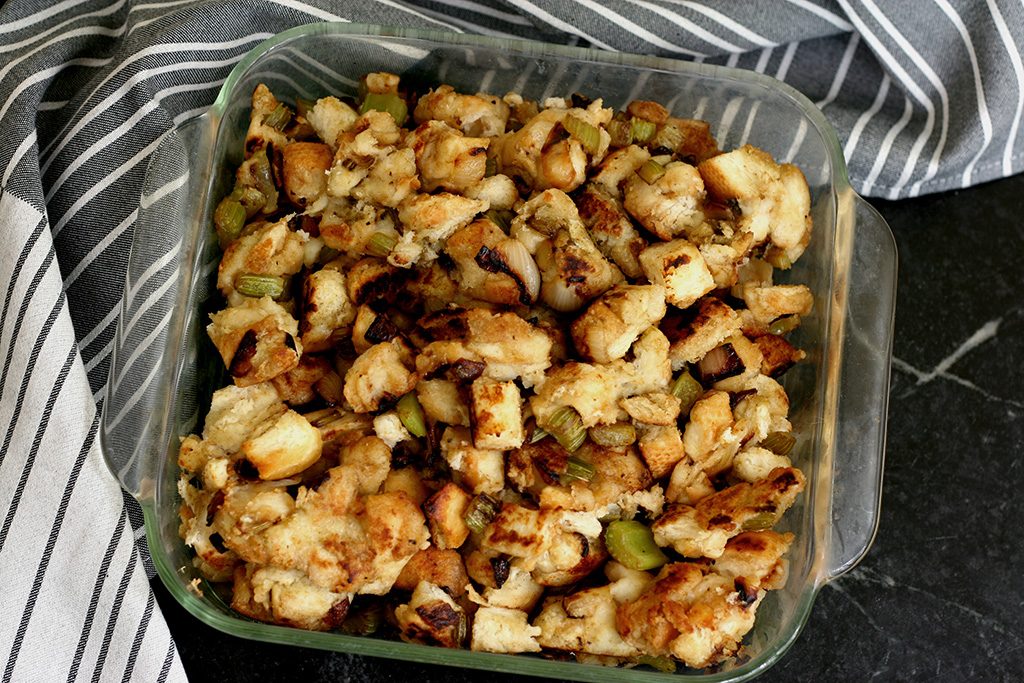 Do you call this Thanksgiving stuffing or dressing? I like to call it stuffing even though I don't stuff it inside the bird. That's a hassle and it leaves you with soggy stuffing. I really do not enjoy eating soggy stuffing and this stuffing (or I guess, dressing) is not soggy at all. The dressing is prepared and then browned up in a skillet before baking in the casserole dish. It gives the bread nice texture and doesn't leave it soggy. This recipe can easily be doubled or tripled to feed a crowd.
Ingredients:
1 loaf french bread, cubed
5 stalks celery, chopped small
1 large onion, chopped small
½ teaspoon poultry seasoning
Salt and pepper
1 cup chicken broth
1 stick butter
Melt 2 Tablespoons butter in a skillet over medium high heat. Add celery and onion to the skillet and saute until softened and slightly browned, about 5-7 minutes. Add more butter if needed. Season with poultry seasoning, salt, and pepper.
Put cubed bread in a large bowl and pour in the celery and onion mixture. Mix to combine. Add broth and mix until evenly moist.
Melt 2 Tablespoons butter in the skillet over medium high heat. Add one third of the stuffing and cook until lightly browned. Pour into 8 x 8 inch pan. Repeat twice with remaining stuffing.
If making ahead of time, cover and refrigerate. Bake at 350 degrees F until heated through, about 1 hour. If making to eat right away, bake for 20 minutes.
Yield: 4-6 servings