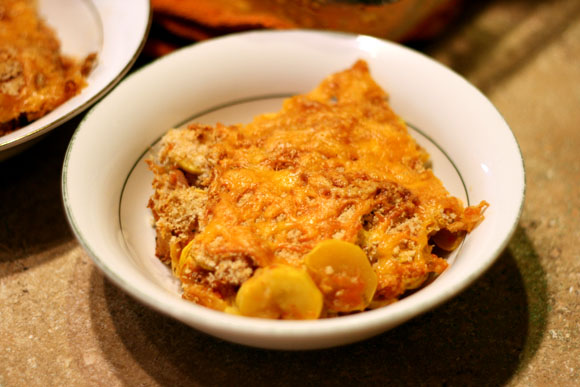 This casserole is a great way to use up extra zucchini or yellow squash that you have!
Ingredients:
6 Strips Bacon, cut into 1 inch pieces
1 Small Onion, thinly sliced
6-8 Summer Squash, sliced
Salt and Pepper
1 (14 oz) Can Diced Tomatoes with Green Chilies, drained
1 Cup Bread Crumbs
1 teaspoon Garlic Powder
1 1/2 Cups Colby Jack or Mozzarella Cheese, shredded
Preheat oven to 425°F.
Cook the bacon in a large skillet over medium-high heat until crisp.  Add the onions and cook until tender, about 5 minutes.  Add the squash and season with salt and pepper.  Cook until the squash is tender, about 7-8 minutes.  Stir in the tomatoes.
Pour into a casserole dish.  Combine the bread crumbs and garlic powder in a small bowl.  Sprinkle the squash mixture with the garlic bread crumbs.  Top with the shredded cheese.  Bake for 15 minutes to melt the cheese and heat through.
Yield: 6-8 Servings