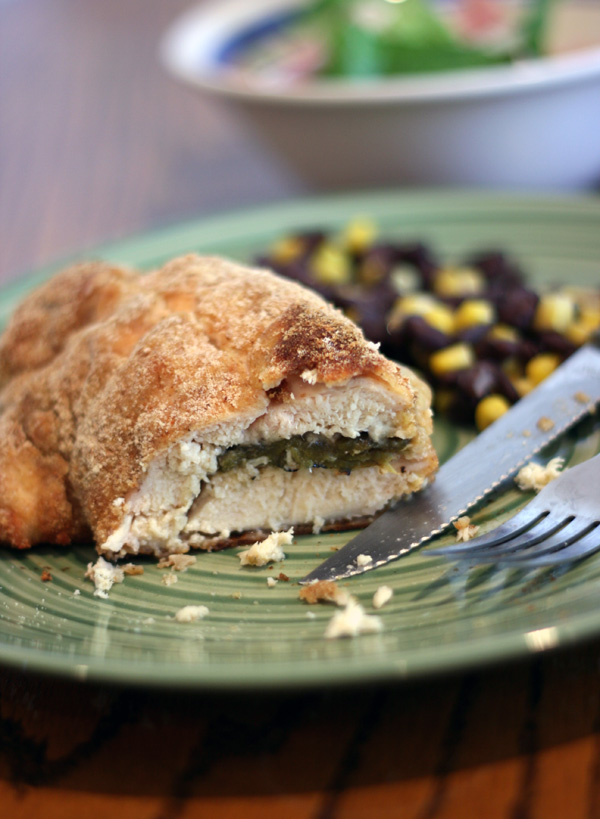 In New Mexico, green chilies are in season right now and can be found everywhere you look.  Green chilies are actually one of New Mexico's state vegetables, along with the pinto bean.  You might be thinking, "hey, chilies and beans aren't vegetables!"…I thought the same thing, but Wikipedia doesn't lie.  OK, so maybe they are just the state food.  Another state food is Bizcochito, which is a kind of cookie.  I actually saw a package of these cookies at the store this morning and wondered what they were.  I will add them to my list of things to do while in New Mexico.  This Hatch Green Chile Stuffed Chicken was a great way to use up some of the green chilies in my freezer.  If you aren't in New Mexico and don't have access to freshly roasted Hatch green chilies, you can still make this delicious Hatch Green Chile Stuffed Chicken.  Just get some long green chilies, usually Anaheim peppers, and roast them under your broiler until charred.  I served our Hatch Green Chile Stuffed Chicken with black beans and corn seasoned with some Mexican seasonings.
Ingredients: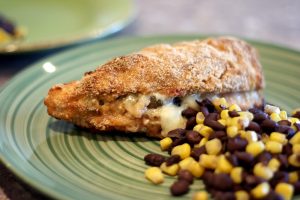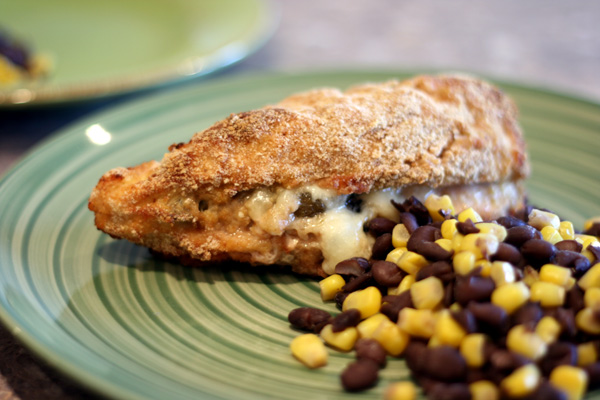 1 Cup Flour
1/2 teaspoon Cumin
1/2 teaspoon Cayenne Pepper
Salt & Pepper
3 Eggs
1 Cup Bread Crumbs
4 Chicken Breasts (boneless/skinless)
4 Roasted Hatch Green Chilies, seeds removed
1 Cup Shredded Mozzarella Cheese
Preheat oven to 450°F.
In a shallow bowl, combine the flour, cumin, cayenne pepper and season with salt and pepper.  In a second shallow bowl, beat the eggs.  In a third shallow bowl, pour in the bread crumbs.
Make a pocket in the chicken breasts by slicing through the thickest part of the chicken breast, going about 3/4 of the way through.  Season the chicken with salt and pepper.
Place one green chile in each chicken breast and stuff with 1/4 cup of the shredded cheese.  Dredge in the flour, dip in eggs and coat with the bread crumbs.  Place on a baking sheet.
Bake until the bottoms are brown, about 10 minutes.  Reduce the oven temperature to 400°F and bake until the chicken is cooked (internal temp of about 160°F), about 20-25 minutes.  Remove from oven, tent with foil and rest 5 minutes before serving.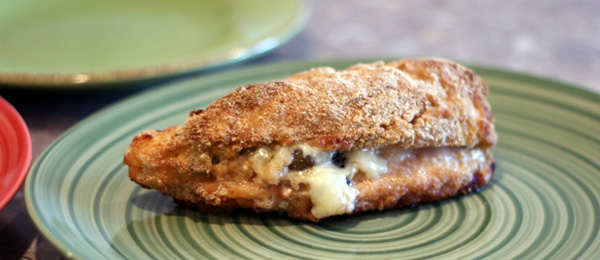 Yield: 4 Servings