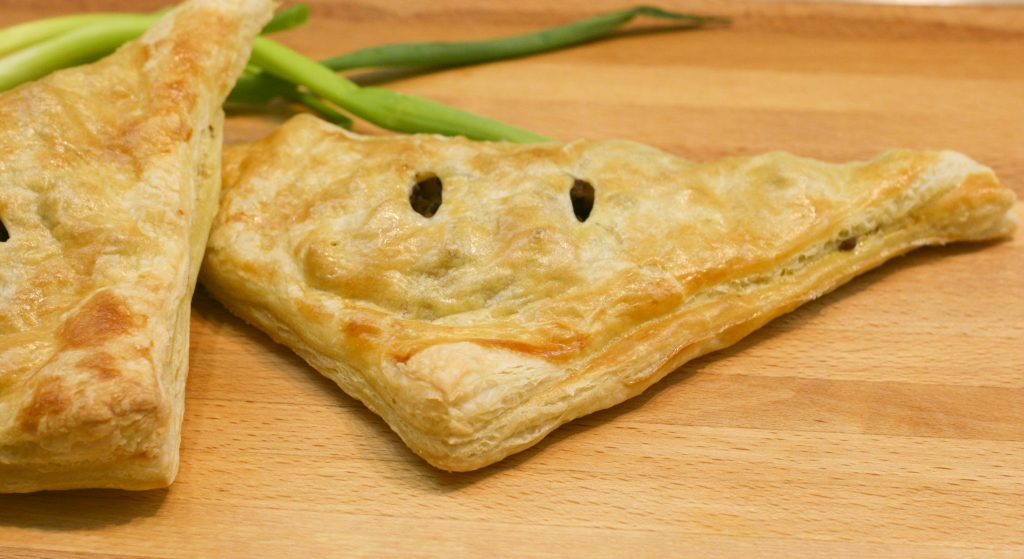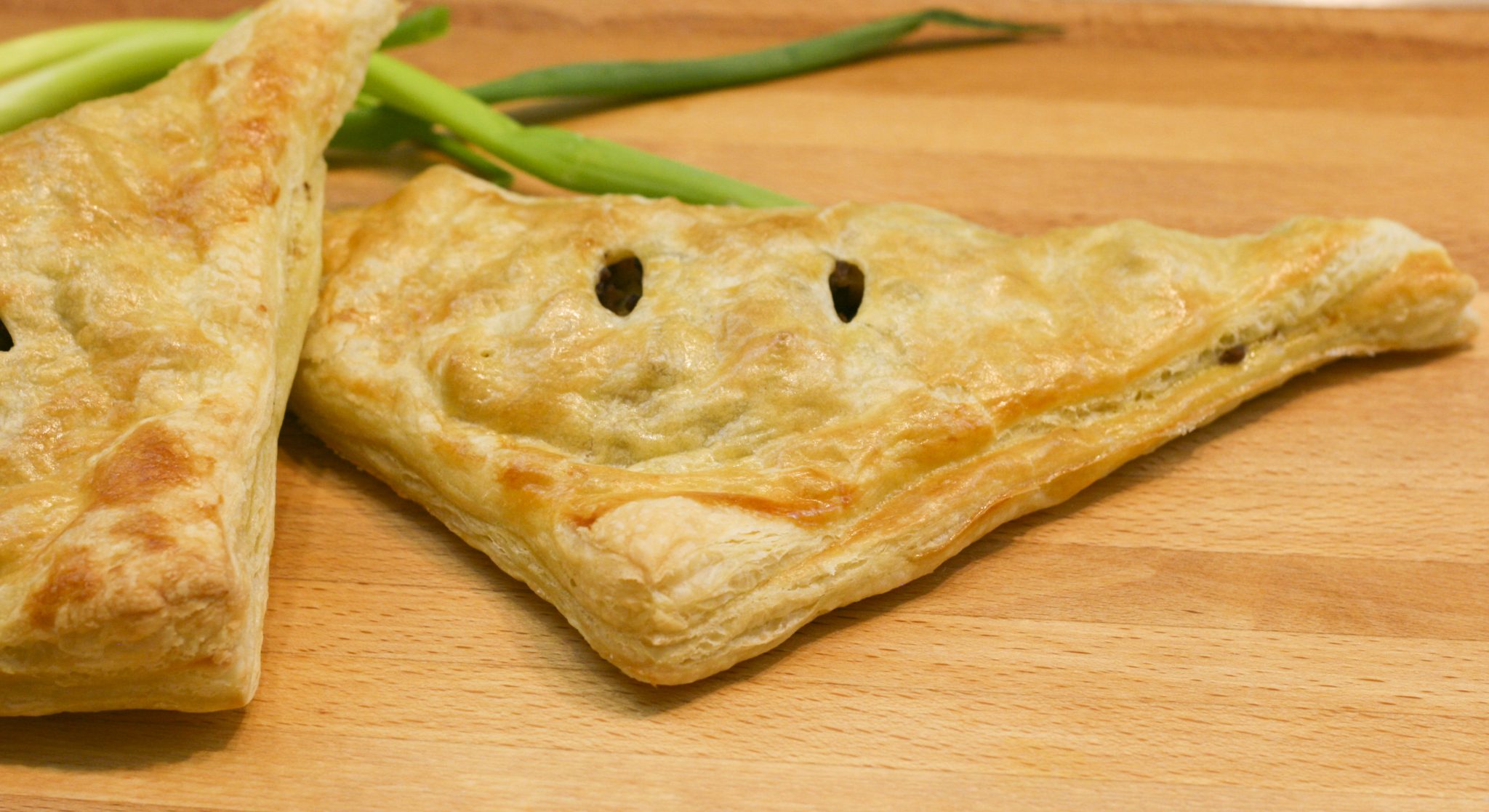 Ground beef hand pies are a personal sized, savory hand pie made with ground beef, potatoes, and veggies all combined in a delicate puff pastry. These are perfect for a family dinner or gathering of friends.
An idea is born
I saw an idea to make these from a mom's group on Facebook. It was a post where everyone was talking about what they have made for dinner recently. Those are my favorite posts because I get a chance to see what kinds of dinners other people actually make. She had made little burgers and threw in some veggies and wrapped them in puff pastry. I thought that sounded good and wanted to try it and make it even better.
Making savory pastries
Make sure you set the puff pastry out to defrost when you start cooking and it should be ready by the time you need it.

I decided cooking the ground beef seemed easier than forming little burgers. Start by chopping up some onion, carrots, celery, and potatoes and cook those until they are softened. I intended to cook them until the potatoes were totally cooked through so it wouldn't end up with uncooked potatoes, but I was getting impatient and we needed to leave for dance class soon. So, I went ahead and threw in the ground beef once they were about halfway cooked and browned it up. Once the beef was in I added some Worcestershire sauce.

I wanted to make a little gravy to hold it all together without it being soupy. Just move the beef and veggies to the sides of the pan and add a little butter and flour. Then pour in the chicken broth. You could use beef broth if you have it, but I only had chicken. Stir it all together and let it bubble for a couple minutes to thicken. The filling is ready to go.

Open up the puff pastry carefully. You will need to roll it out a little. You could either roll the whole sheet out to a 14 inch square. Then cut into four 7 inch squares. Or you could cut them into 4 squares then roll them out to 7 inch squares, which is what I ended up doing. Do this with both sheets of pastry to make 8 squares.

Place them on parchment paper, add a big scoop of filling, brush the edges with the egg wash, and fold into a triangle. Press the edges to seal and repeat with the rest. I was able to fit 4 on each baking sheet. Be sure to brush the tops with the egg wash to help them brown up nice and pretty in the oven.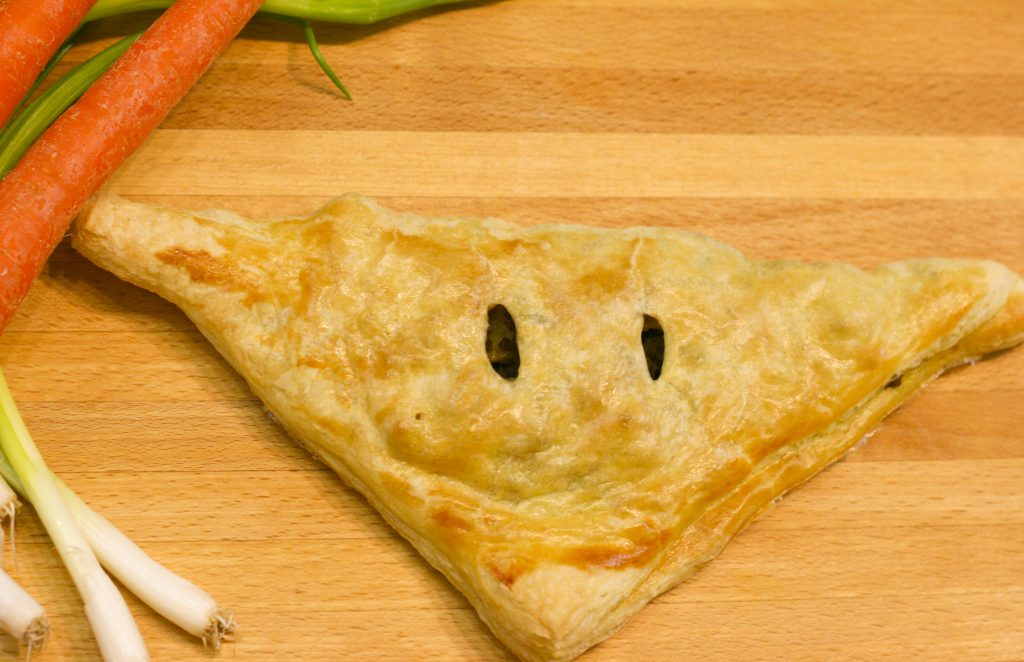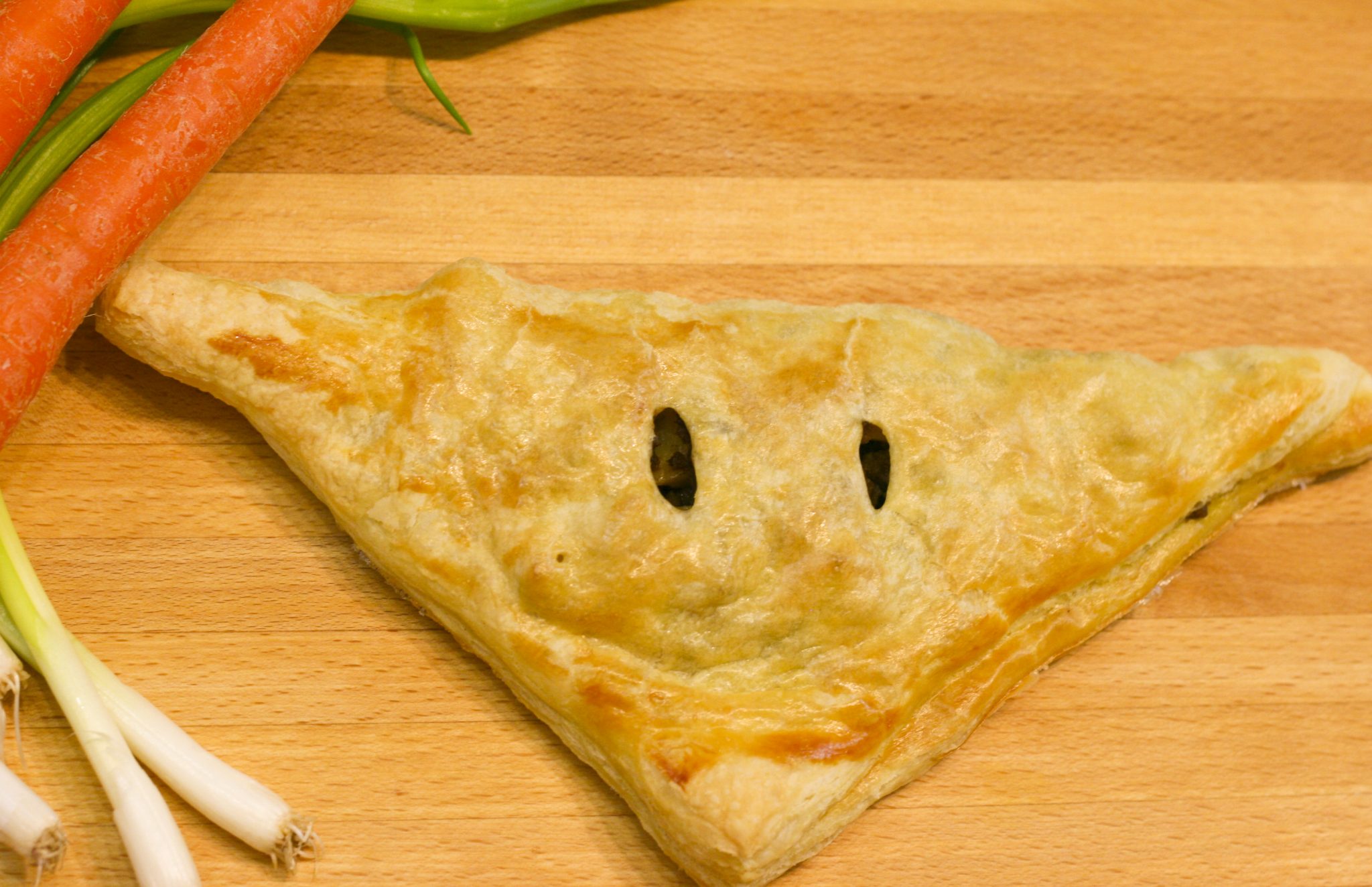 Final thoughts
I found these ground beef hand pies to be a bit big for my younger kids, so next time I would make half of them smaller. One of my kids said they looked like bats. After baking them I realized I should have cut more than two slits in the top because they ended up looking like eyes. I guess this could make for a nice Halloween meal in a few months. I think the one I got pictures of looks like Yoda. Not really what I was going for, but that's ok. It was delicious and that's all that matters.
Connect With Us!
If you try this recipe, please leave a comment and star rating below to let us know how it turned out! We would also love to connect with you on Facebook, Instagram, or Pinterest. Tag @chloestrayblog or #chloestray to show us your food!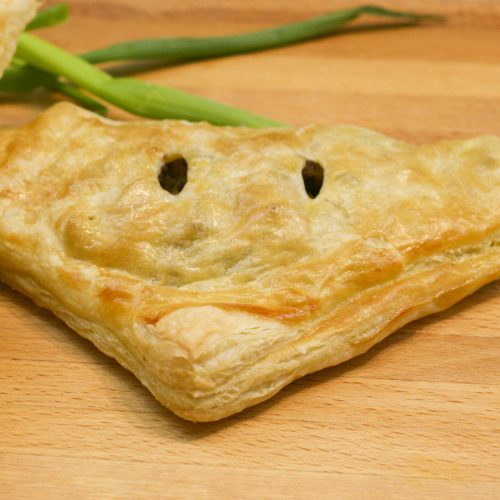 Ground Beef Hand Pies
A personal sized, savory hand pie made with ground beef, potatoes, and veggies all combined in a delicate puff pastry. These are perfect for a family dinner or gathering of friends.
Ingredients
1

Tablespoon

extra virgin olive oil

1

small

onion,

diced

2

carrots,

diced

1

celery stalk,

diced

1

lb

Yukon gold potatoes,

diced

1

clove

garlic,

minced

salt & pepper,

to taste

1

lb

ground beef

1

Tablespoon

Worcestershire sauce

1

Tablespoon

butter

1

Tablespoon

flour

1

cup

chicken or beef broth

1

egg,

beaten with a splash of water

1

box

puff pastry,

2 sheets
Instructions
Preheat oven to 400°F. Remove the puff pastry from the freezer to defrost. Line two baking sheets with parchment paper.

Heat the olive oil over medium-high heat in a large skillet. Add the onion, carrots, celery, potatoes, and garlic. Cook until softened, about 5-7 minutes. Season with salt and pepper.

Add the ground beef and break it up. Cook until browned, about 5 minutes. Stir in Worcestershire sauce. Push the beef and veggies to the edges of the pan then add the butter and let it melt. Stir the flour into the melted butter and gradually pour in the broth. Stir it all together and let it bubble for a few minutes to thicken.

Carefully open one puff pastry sheet and cut into 4 squares. Roll the square out to a 7 inch square. Place on the parchment paper lined baking sheet and add a large scoop of filling. Beat an egg with a splash of water for the egg wash. Brush the edges of the pastry and fold over to make a triangle. Press edges with the tines of a fork to seal. Repeat with the remaining pastry sheet. You will have 8 pies total.

Cut a few slits in the top to let air escape during baking. Brush the tops of the hand pies with the egg wash. Bake until golden brown, about 15-20 minutes.