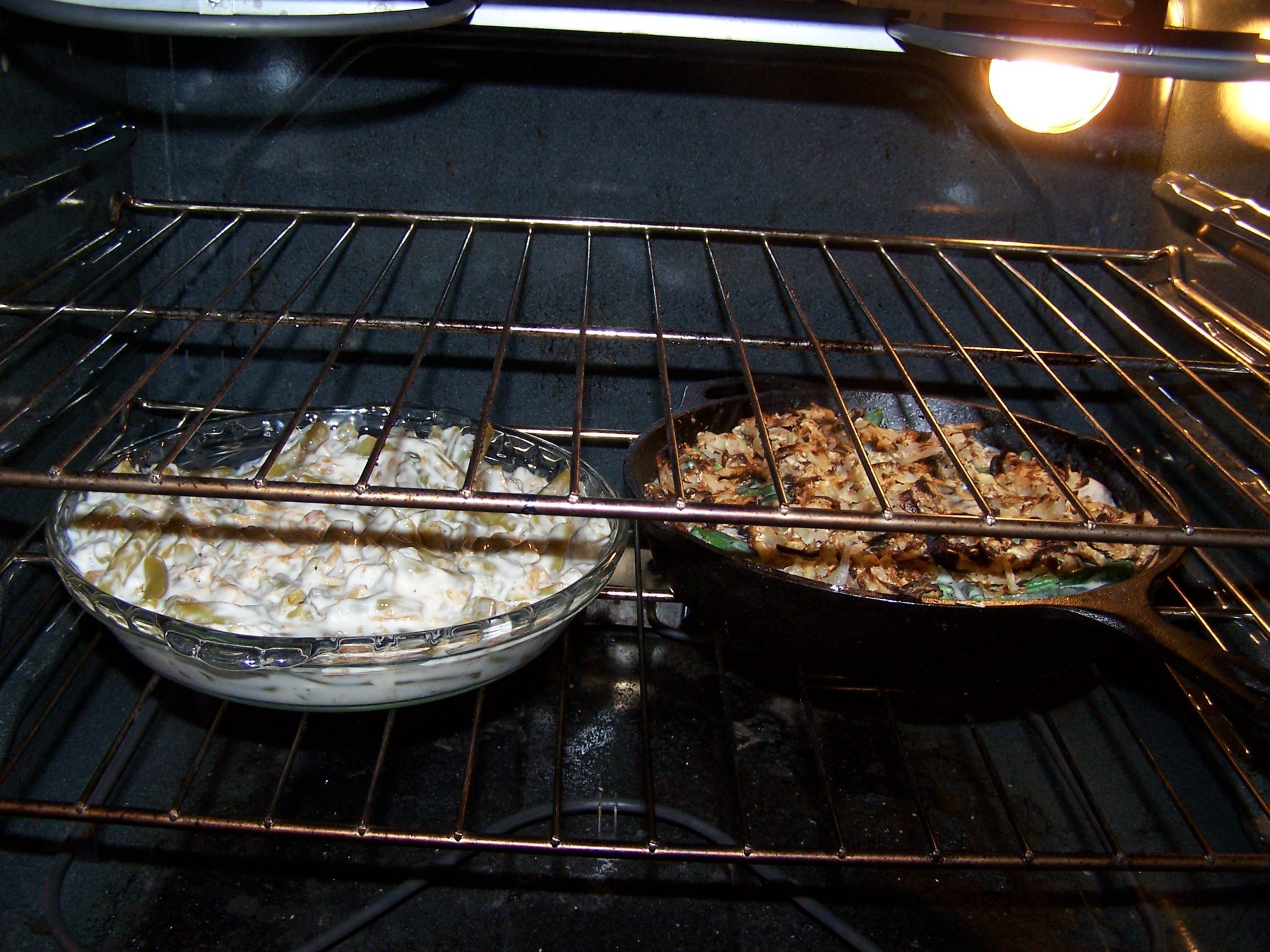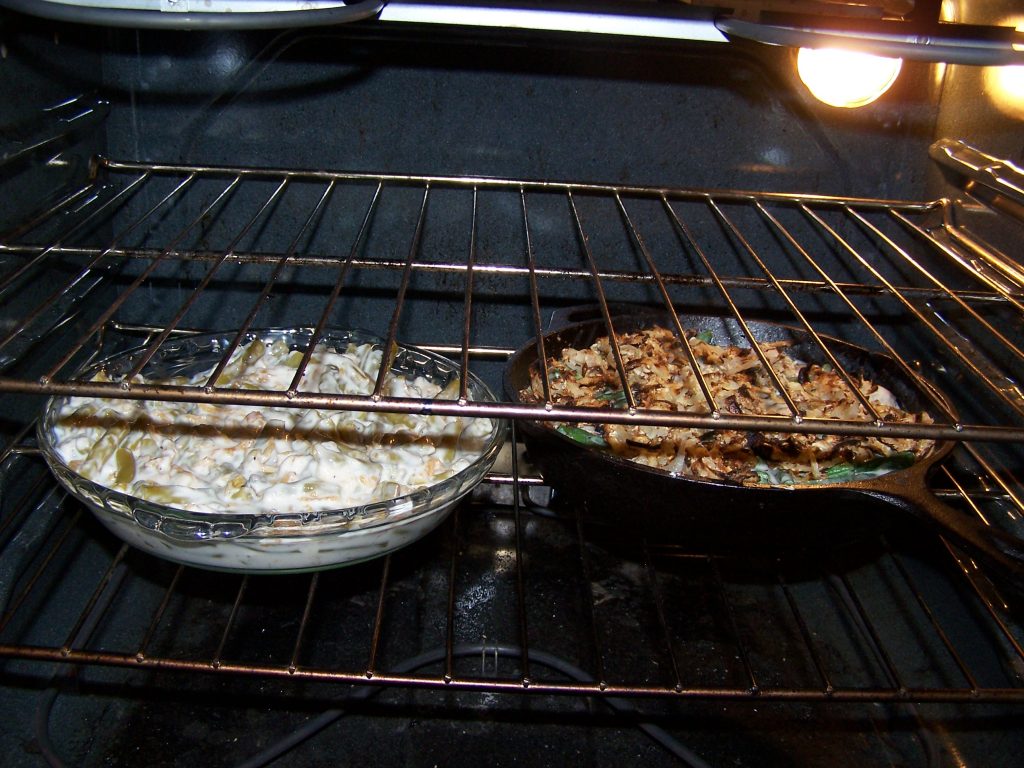 Green bean casserole is a staple for Thanksgiving dinner.  I'm experimenting with a new recipe here and comparing it to the traditional Campbell's recipe.  The new recipe is from Alton Brown, so I have faith that it will be delicious.  I made these to bring to our Tuesday night Bible study so I could have some taste testers.  Everyone decided that they were both very good, but the Alton Brown version was more flavorful.  The Campbell's version was much saltier, but had that classic flavor that brings back memories of Thanksgiving.  More of the Alton Brown casserole was eaten than the Campbell's version, so that says something too.  They were both tasty, but I much prefer the Alton Brown version.
Campbell's Classic Green Bean Casserole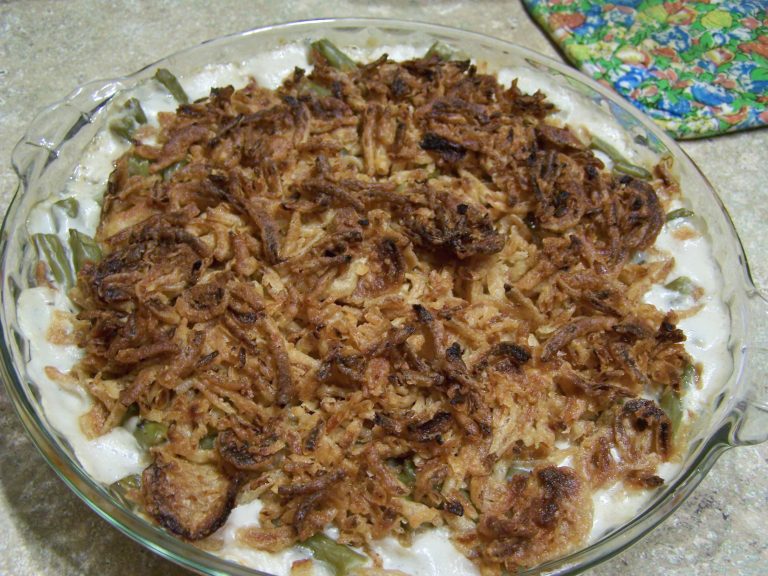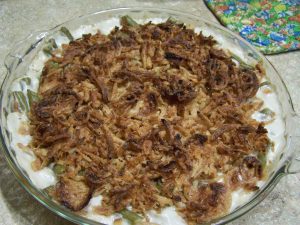 Ingredients:
1 can (10 ¾ oz) Cream of Mushroom Soup
½ cup milk
1 teaspoon soy sauce
Dash ground black pepper
4 cups (2 cans, drained) cut green beans
1 1/3 cups French's French Fried Onions
Preheat oven to 350°F.
In a 1½ quart casserole dish, stir together the cream of mushroom soup, milk, soy sauce, pepper, green beans, and 2/3 cup french fried onions.
Bake until hot and bubbly, about 25 minutes.  Sprinkle with the remaining french fried onions.  Bake until the onions are browned, about 5 minutes.
Alton Brown's Green Bean Casserole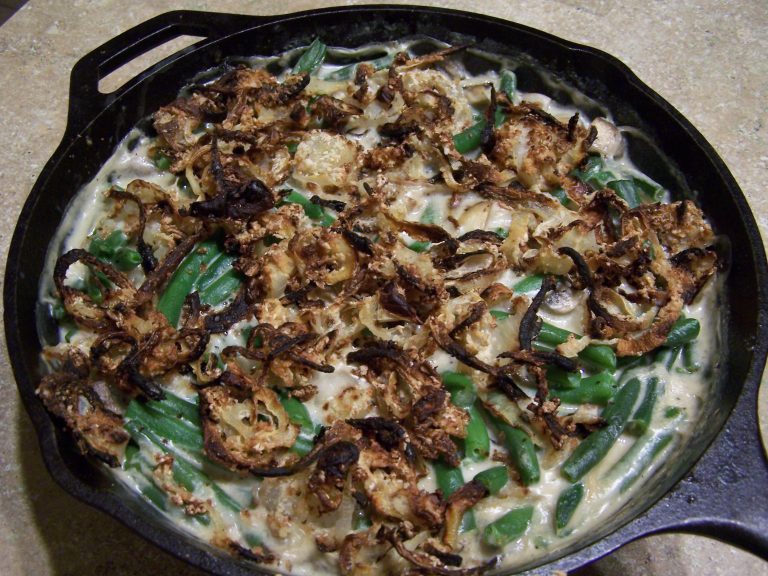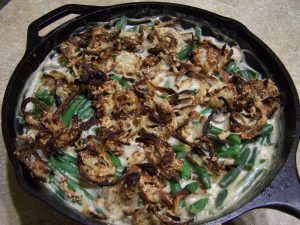 Ingredients:
For the topping –
2 medium onions, thinly sliced
1/4 cup all-purpose flour
2 tablespoons panko bread crumbs
1 teaspoon kosher salt
Nonstick cooking spray
For beans and sauce –
2 tablespoons plus 1 teaspoon kosher salt, divided
1 pound fresh green beans, rinsed, trimmed and halved
2 tablespoons unsalted butter
12 ounces mushrooms, trimmed and cut into 1/2-inch pieces
1/2 teaspoon freshly ground black pepper
2 cloves garlic, minced
1/4 teaspoon freshly ground nutmeg
2 tablespoons all-purpose flour
1 cup chicken broth
1 cup half-and-half
Preheat oven to 475°F.
Spray a baking sheet with non-stick cooking spray.  In a large bowl, combine the onions, flour, bread crumbs and salt.  Spread evenly on the prepared baking sheet.  Bake on the middle rack in the oven until golden brown, about 30 minutes.  Toss the onions twice during cooking to prevent burning them.  Let cool.
Turn oven temperature down to 400°F.
Fill a large pot with 1 gallon of water.  Bring to a boil and add 2 Tablespoons of salt.  Add the beans to the boiling water and cook for 5 minutes.  Drain the green beans and place them in ice water to stop the cooking process.  Drain again.
In a cast iron skillet over medium-high heat, melt the butter and add the mushrooms, 1 teaspoon salt and the pepper.  Cook for 4-5 minutes to soften them.  Stir in the garlic and nutmeg and cook for 2 minutes.  Sprinkle in the flour, cook for another minute.  Stir in the broth and cook for 1 minute.  Lower heat to medium-low and stir in the half-and-half.  Simmer until thickened, about 7 minutes.
Remove the mushroom mixture from the heat and stir in the green beans and ¼ of the browned onions.  Sprinkle the remaining onions on top.  Bake until bubbly, about 15 minutes.
Please follow and like us: