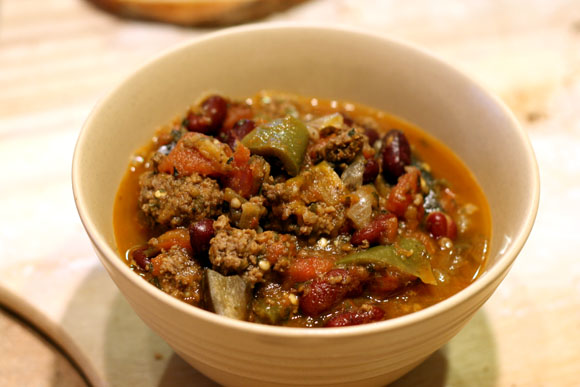 We went camping this weekend and made this chili.  I had got an eggplant in my Bountiful Basket and needed to find a good use for it.  We don't normally eat eggplant, but I think that may change after making this chili.  We also made some cornbread pancakes to serve alongside.
Ingredients:
2 Tbsp Olive Oil
1lb Ground Beef
1 large onion, diced
1 green bell pepper, seeded and diced
1 large Eggplant, diced
2 Cloves Garlic, grated
2, 14 oz cans Red Kidney Beans, drained
15 oz can Diced Tomatoes
15 oz can Crushed Tomatoes
2 Tbsp fresh Parsley, chopped
1 Tbsp dried or fresh Oregano
1 tsp dried Thyme
2 tsp Chili Powder
Salt & Pepper
3 Green Onions, Chopped

Heat oil in a large pot over medium-high and brown the beef.  Add the onion, bell pepper, eggplant, garlic and cook until veggies are tender.  Add in the kidney beans, diced tomatoes, crushed tomatoes, parsley, oregano, thyme, chili powder and season with salt and pepper.  Bring to a bubble, reduce heat to low and simmer for 15 minutes.  Serve with green onions on top.