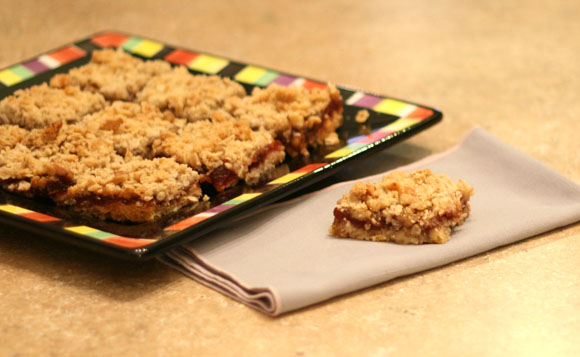 Cranberry Nut Streusel Bars are great for a brunch or even Christmas morning!
Ingredients:
1 Cup Cranberry Sauce
1/4 Cup Sugar
1 Cup Flour
1 Cup Rolled Oats
2/3 Cup Brown Sugar
1/4 teaspoon Salt
1 Stick (4 oz) Unsalted Butter
2/3 Cup Walnuts, chopped
Preheat oven to 350°F and lightly grease a 9 inch square or round baking pan.
Stir together cranberry sauce and sugar in a small bowl. Microwave for 1 minute and stir. Keep heating for 30 seconds at a time until the sugar is dissolved.
Mix flour, oats, brown sugar and salt together in a large bowl. Cut butter into small pieces and work it into the flour mixture with your fingers until crumbly. Stir in walnuts.
Press 2 cups of the crumbly streusel into the prepared pan. Spread on the cranberry sauce mixture and sprinkle on the remaining streusel.
Bake until light brown on top, about 30 minutes.
Cool completely before cutting.
Yield: about 12 bars