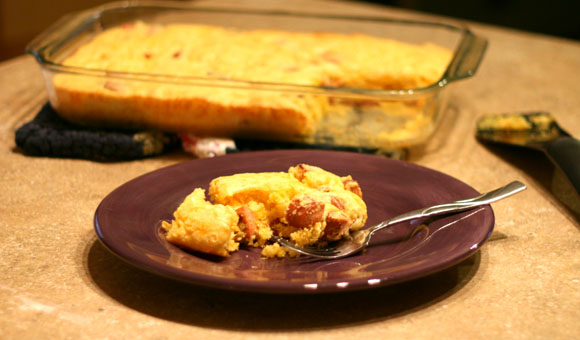 Corndog casserole tastes just as delicious as a corndog!  Chloe, who is 4 years old said "I like this kind of dinner mom!".
Ingredients:
1 Package Hot Dogs, cut up however you prefer
2 (8.5 oz) Boxes Cornbread Mix (Jiffy brand)
2 Cups Shredded Cheddar Cheese
2/3 Cup Milk
2 Eggs
Preheat oven to 350°F
Heat a skillet over medium/high heat and saute the hot dogs until lightly browned.
Whisk together cornbread mix, milk and eggs in a large bowl.  Stir in cheese and hot dogs.
Pour into a lightly greased casserole dish.  Bake until golden brown, about 20-25 minutes.
Note: Cut the hot dogs into small pieces if feeding to young children.
Yield: About 6 Servings
Please follow and like us: