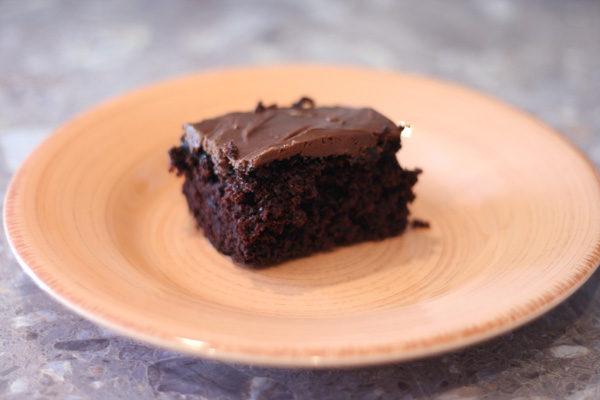 Owen's first birthday was yesterday!  He really enjoyed eating and playing with this Chocolate Fudge Cake.  Owen got everything a 1 year old could ever want: a floaty balloon, a strawberry banana smoothie for lunch, a new tooth and Chocolate Fudge Cake.  At my house we always joke that the first birthday is that magical day when you are now able to eat delicious things like chocolate.  At one year old we say goodbye to that forbidden list of foods for kids under 12 months.  This Chocolate Fudge Cake is super moist and delicious.  Happy Birthday Owen!
Ingredients: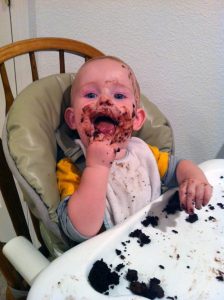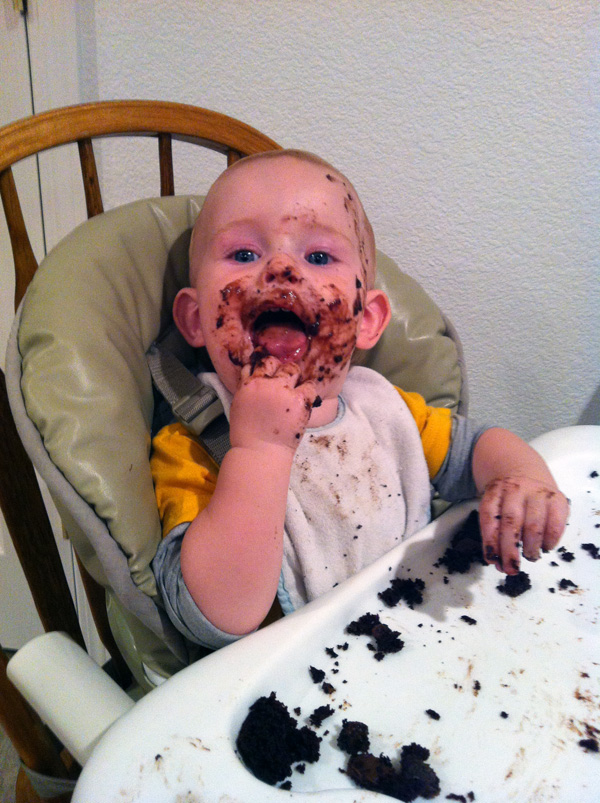 2 Cups Sugar
1 3/4 Cups All Purpose Flour
3/4 Cup Cocoa Powder
1 1/2 teaspoons Baking Powder
1 1/2 teaspoons Baking Soda
1 teaspoon Salt
2 Eggs
1 Cup Milk
1/2 Cup Canola Oil
2 teaspoons Vanilla Extract
1 Cup Boiling Water
Chocolate Fudge Frosting:
1 ½ Squares Bakers Chocolate
3 Tablespoons Water
3 Tablespoons Butter
12 Large Marshmallows
1 1/3 Cups Powdered Sugar
Preheat oven to 350°F.  Grease and flour a 9 x 13 inch baking dish.
In a large bowl, combine sugar, flour, cocoa powder, baking soda and salt.  Add eggs, milk, oil and vanilla and mix for 2 minutes with an electric mixer to combine.  Stir in the boiling water.  Pour into the cake pan(s).
Bake until a toothpick inserted in the center comes out clean, about 30-35 minutes.  Let cool completely before frosting.
Prepare the frosting:
In a large bowl, microwave the chocolate, butter, water and marshmallows until melted.  Heat in short intervals, stirring frequently.  Cool in freezer for a few minutes.
Sift in the powdered sugar and stir to combine.
An alternative way of preparing this frosting is to mix in a high powered blender, like a Vitamix.  Combine the chocolate, butter, water and marshmallows and blend to combine.  Add the powdered sugar and blend until smooth.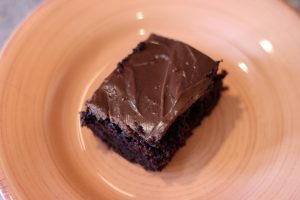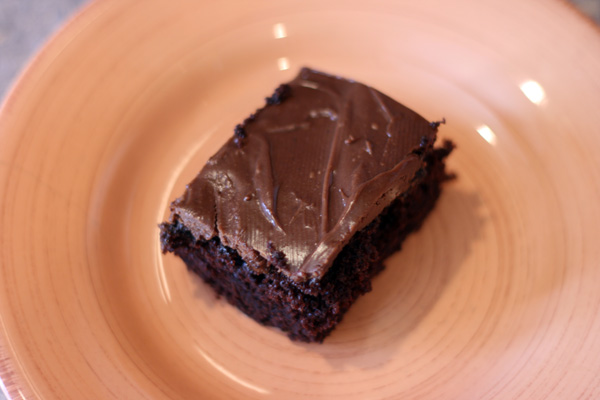 Yield: 1 Cake
*Note: This can be made in two 9 inch cake pans.  Double the frosting to allow enough to cover completely.
-Recipe adapted from Hershey's Kitchens–