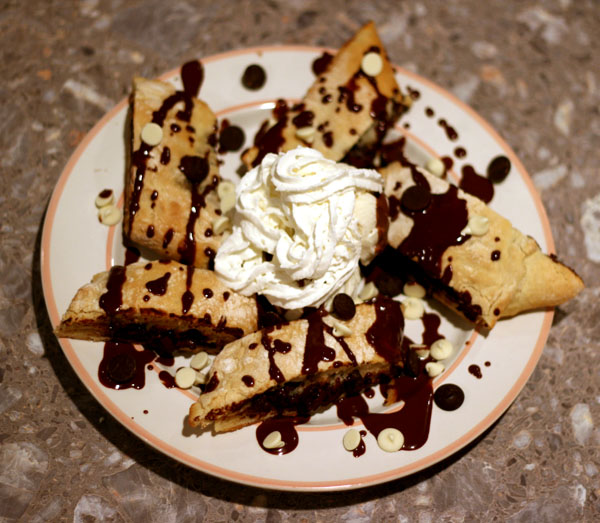 This Chocolate Chip Calzone recipe is a copy cat recipe of a dessert that Claim Jumper restaurant makes.  I love recreating recipes from restaurants!  Now you can make this Chocolate Chip Calzone at home too.
Ingredients:
Dough-
1/4 Cup plus 3 Tablespoons Warm Water
1 Tablespoon Honey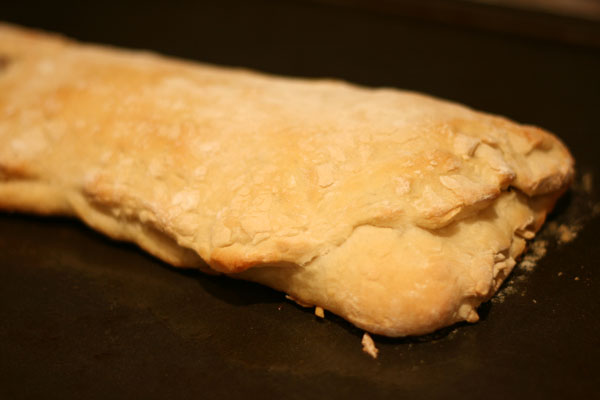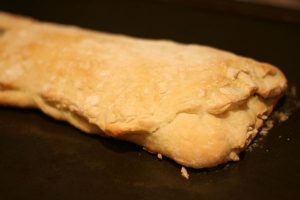 1/8 teaspoon Kosher Salt
1 teaspoon plus 1/8 teaspoon Yeast
1 1/2 teaspoons Extra Virgin Olive Oil
1 – 1 1/4 Cups Flour
2 Tablespoons Butter, softened
1 Cup Bittersweet Chocolate Chips, divided, plus extra for garnish
1/4 Cup White Chocolate Chips, plus extra for garnish
1/2 Cup Whipping Cream
Vanilla Ice Cream, for serving
Whipped Cream, for serving
Prepare the dough by stirring water and honey together until the honey is dissolved.  Whisk in salt, yeast and olive oil until combined.  Slowly add flour and knead until not sticky any more.  Cover loosely and let rise until doubled in size, at least 1 hour.
Preheat oven to 375°F.
Form dough into a rectangle, about 10 inches by 6 inches.  Spread softened butter over dough.  Fold in half.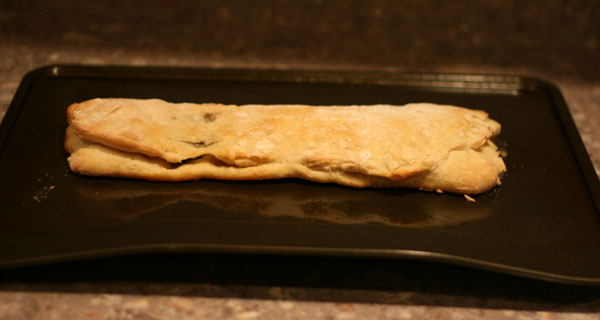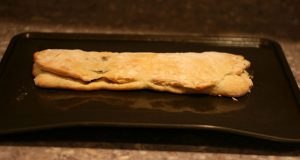 Form dough into a 12 inch by 8 inch rectangle.  Sprinkle 1/2 cup bittersweet chocolate chips and 1/4 white chocolate chips on half of the dough, along the longer side.  Fold in half to make a 12 inch by 4 inch folded calzone.  Bake until golden brown and delicious, about 15 minutes.
While the calzone is in the oven, prepare the chocolate drizzle by melting 1/2 cup bittersweet chocolate chips and 1/2 cup whipping cream together in a double boiler.  The bottom pot of the double boiler only needs 1 cup water in it.  Once melted, remove from from heat to thicken slightly.
To serve, slice the Chocolate Chip Calzone at an angle, garnish with additional bittersweet and white chocolate chips and drizzle with the chocolate sauce.  Also, serve with vanilla ice cream and a healthy amount (a lot) of whipped cream.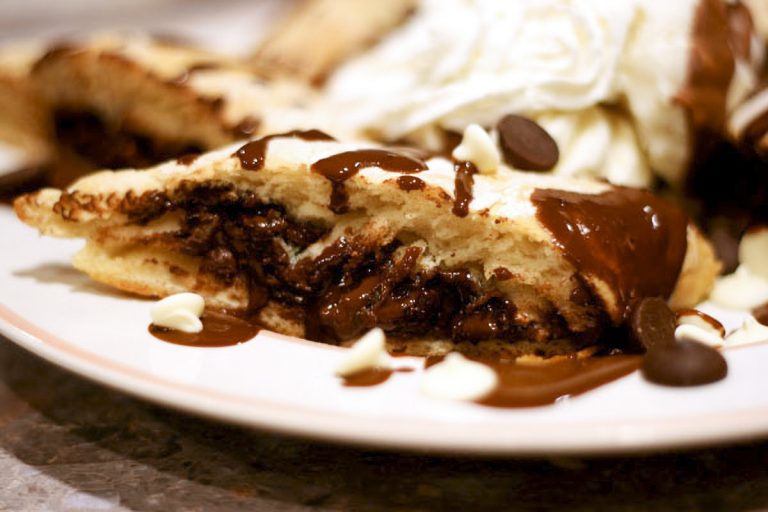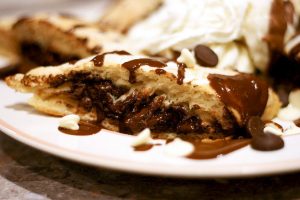 Yield: 2-4 Servings (or 1!)
-Recipe inspired by a dessert at Claim Jumper-
Please follow and like us: