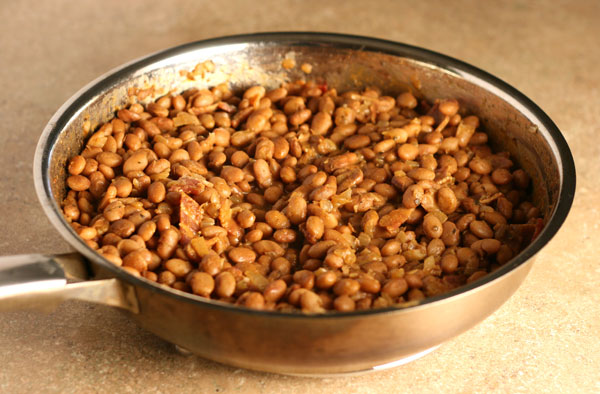 These Bacon Pinto Beans are delicious on their own, in a burrito, in a quesadilla, and nachos.  I'm sure they will be delicious any way you want to eat them!
Ingredients:
1 lb Pinto Beans, cooked
1 Bay Leaf
6 Slices Bacon
1 Small Yellow Onion, diced
2 Cloves Garlic, minced
1 teaspoon Cumin
1 Tablespoon Chili Powder
½ teaspoon Oregano
1 Tablespoon Lime Juice
¾-1 Cup Water
Salt and Pepper, to taste
Cook the beans with a bay leaf, drain.
In a large skillet over medium/high heat, cook the bacon until crisp.  Remove from pan and chop.  Leave the bacon fat in the pan.
Add the diced onion and cook until softened.  Add garlic and cook for about 30 seconds.
Add the bacon back to the pan along with the beans, cumin, chili powder, oregano, bay leaf, lime juice and water.  Add ½ cup water first, then add a ¼ at a time as needed.  You want some liquid in the pan so the beans don't burn on the bottom.  Season to taste with salt and pepper.  Simmer over low for 5-10 minutes.