Breakfast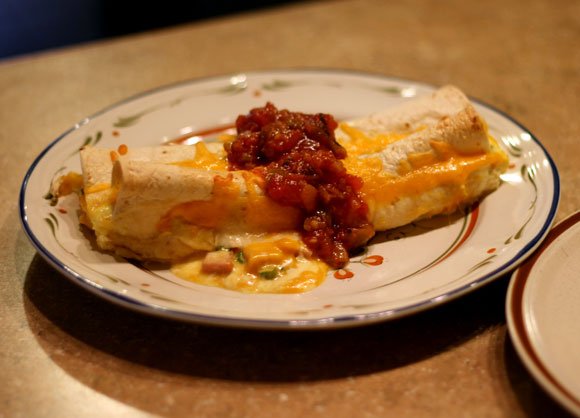 Enchiladas for breakfast!  It's amazing!  I actually made these as a breakfast for dinner meal.  Breakfast Enchiladas can really be eaten any time of the day.  Enjoy!
Ingredients:
2 Cups Cubed Ham
4 Green Onions, sliced
2 1/2 Cups Shredded Cheddar Cheese
10 Flour Tortillas (8 inch)
2 Cups Half-and-Half
6 Eggs
1 Tablespoon Flour
Salsa, for serving
In a large bowl, combine ham, green onions and 2 cups shredded cheese.  Place 1/3 Cup of the ham mixture in each tortilla.  Roll each tortilla and place seam side down in a casserole dish.
Whisk together half-and-half, eggs and flour.  Pour over the rolled tortillas.  Cover and refrigerate overnight.
The next morning, preheat oven to 350°F.
Bake until almost set, about 30 minutes. Sprinkle with cheese and bake another 10 minutes.
Serve with salsa.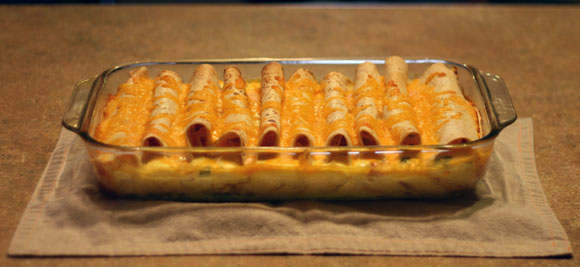 Serves: 4-6
Tags: Breakfast, Breakfast Casserole, Eggs, Ham
Jodi on February 18th, 2013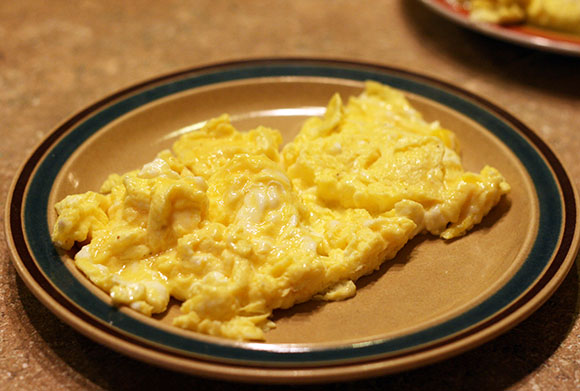 Have you made scrambled eggs before?  I have made them a million times, but they are always dry, browned and just kind of blah.  I had no idea I was making them wrong all this time.  I've been over beating them and over cooking them for years.  America's Test Kitchen opened my eyes to a whole new world of delicious and moist scrambled eggs.  I never knew eggs could be this good.  So, stop over beating your eggs and stop over cooking your eggs!  Try cooking up some amazing scrambled eggs and see what you have been missing.  Enjoy…seriously!
Ingredients:
8 Large Eggs
1/4 Cup Half-and-Half
1/2 teaspoon Salt
1/8 teaspoon Pepper
1 Tablespoon Unsalted Butter
In a large bowl, combine eggs, half-and-half, salt and pepper together and beat lightly with a fork.  Don't over beat, just bring it together.
Heat the butter in a non-stick skillet over medium-high heat.  Tilt the pan to coat the entire bottom of the pan with butter.  Add egg mixture.  Using a rubber spatula, gently push the eggs around the pan.  Turn heat down to low after about 90 seconds.  Once the eggs are clumped into a mound, they are done.  They will take about 2 minutes total to cook.  They should still be shiny and very moist.
Serve immediately.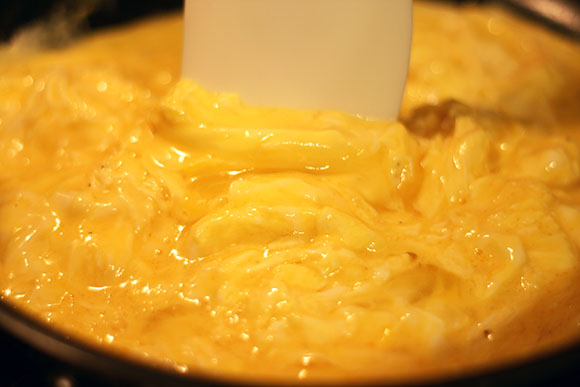 Serves: 4
-Recipe from America's Test Kitchen-
Tags: Breakfast, Egg, Eggs, Gluten Free
Jodi on February 11th, 2013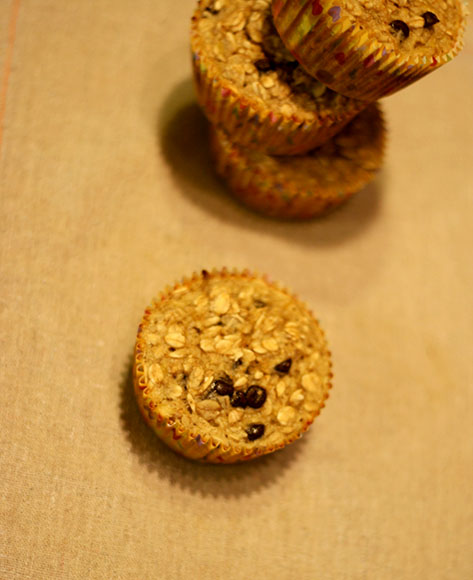 These oatmeal cups are pretty tasty!  I was thinking they were going to be like muffins when I made them, but they are really more like baked oatmeal.  It stays together like a muffin, but since there is no flour it has a different texture.  The kids liked them too!  My kids don't really eat oatmeal, so this is a great substitute for oatmeal.  Also, no sugar!  OK, there is sugar in chocolate chips, but I couldn't leave them out.  I hope you try out these Banana Oatmeal Cups with Chocolate Chips!  Enjoy!
Ingredients: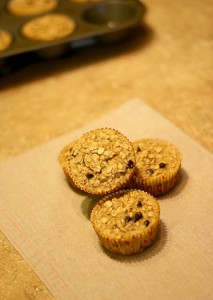 3 Overripe Bananas, mashed
1 Cup Unsweetened Almond Milk
2 Eggs
1 Tablespoon Baking Powder
3 Cups Oats
1 teaspoon Vanilla Extract
3 Tablespoons Mini Chocolate Chips
Preheat oven to 375°F.
Mix together bananas, almond milk, eggs, baking powder, oats and vanilla together either by hand or in a stand mixer.  Stir in chocolate chips.
Either spray muffin pan or line with paper liners.  This makes slightly more than one muffin pan worth, so you will need two pans.  Divide batter among 15 muffin cups.  Bake until the edges start to brown, about 25-30 minutes.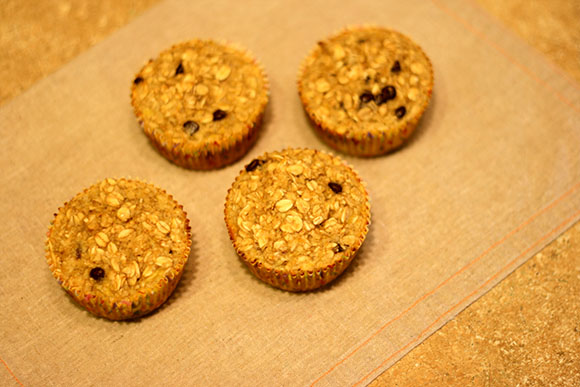 Yield: 15 Muffins
-Recipe adapted from Green Lite Bites-
Tags: Breakfast, Gluten & Dairy Free, Gluten Free, Muffins, Oatmeal, Oats
Jodi on January 4th, 2013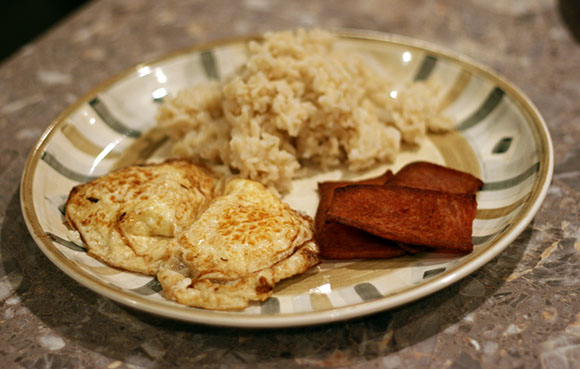 Spam is something I thought I would never eat!  On a recent trip to Hawaii, a friend made us Spam, Eggs and Rice to eat for breakfast.  It was so much better than I ever expected it to be.  The spam is sliced thin and browned up until it's crispy.  It reminds me of bacon, just saltier.  Chloe thought it was bacon.  The fried eggs are intended to be still runny so you can mix it in with the rice.
Ingredients:
1 Cup Brown Rice
1 Can Spam sliced thin
8 Eggs
Butter
Salt & Pepper
Cook rice in a rice cooker or on the stove.
When the rice is just about ready, heat a large skillet over medium high heat.  Brown the spam in the skillet until browned on both sides.  Brown it in batches so you don't crowd the pan.  Reserve on a paper towel lined plate and cover with foil to keep warm.
Use a paper towel to wipe some of the fat from the pan.  Fry the eggs over medium/high heat to your liking.  Add butter to the pan for cooking the eggs as needed.  Season with salt and pepper.
Serve a scoop of rice with two fried eggs and a few slices of browned spam.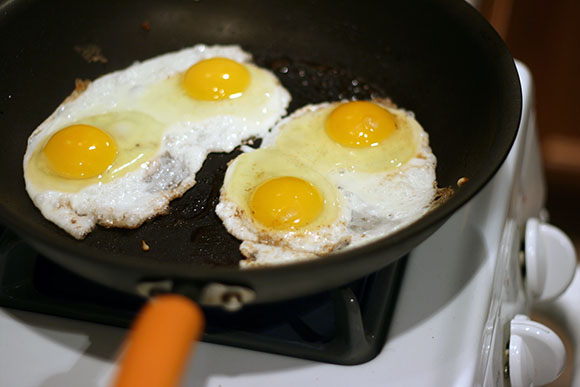 Serves: 4
Jodi on November 23rd, 2012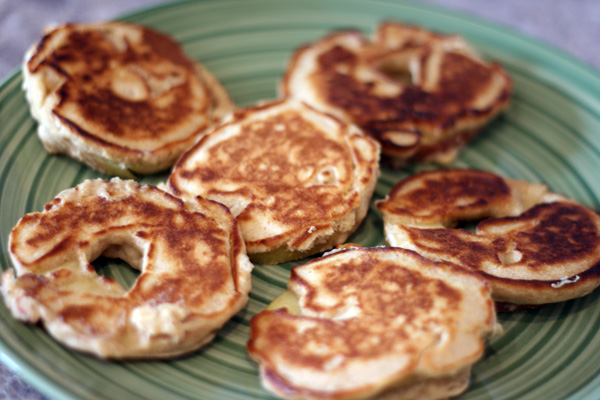 I found this idea for coating apples with pancake batter before cooking them on Pinterest.  I'm sure everyone on Pinterest has seen this about a hundred times!  I thought I would give it a try and see if it's good.  I thought they turned out pretty awesome.  The apples were softened, but still had a little crunch to them.  Chloe and Owen didn't really like the apple.  Owen picked all the pancake off and threw the apple on the floor.  Chloe just sat it to the side and asked for pancakes without apples.  So, maybe these aren't super kid friendly…or maybe just not MY kid friendly.  I really enjoyed them though.  I coated them with my Cinnamon Oat Pancake batter.  These pancakes are a favorite in my house.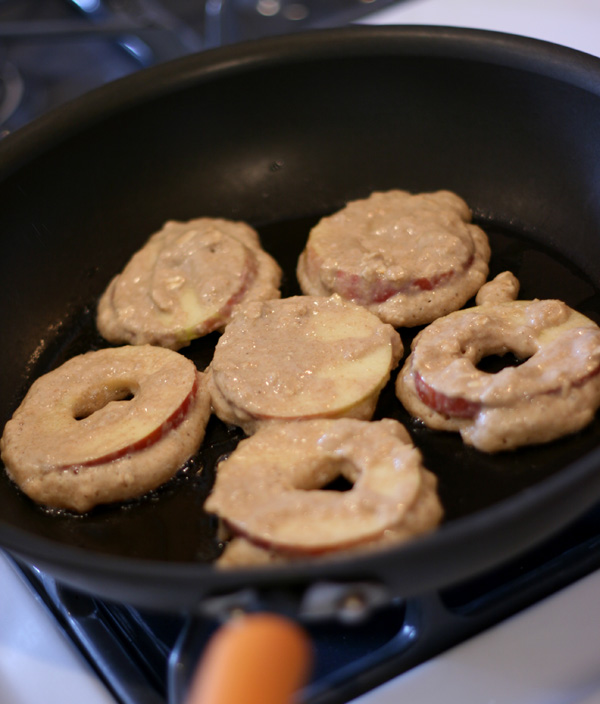 Make sure to core your apples before cooking them!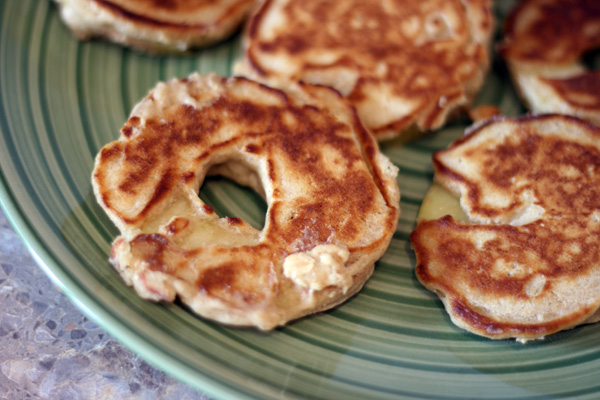 Jodi on November 9th, 2012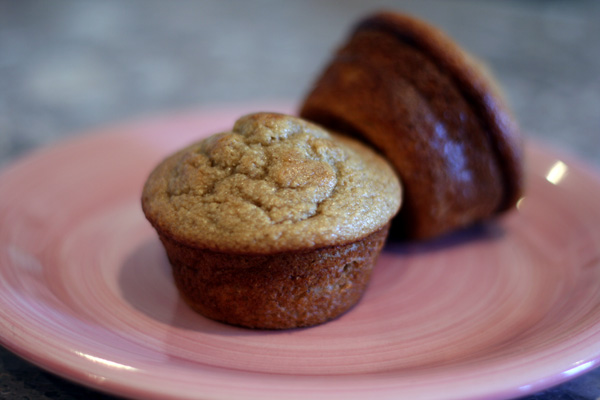 I'm always amazed with gluten free baked goods that don't seem to be gluten free.  No weird texture or taste with these Gluten Free Banana Oat Muffins.  You seriously wouldn't even know these Gluten Free Banana Oat Muffins were gluten free just by tasting them.  These couldn't be easier to make!  Just throw it all in the blender then bake.  Notice in the directions that it says to use silicone or foil muffin liners.  Don't use papers liners as they don't work so well with gluten free foods.  I really love the silicone baking liners.  They amaze me!  I've tried using other silicone bakeware, but haven't liked them because they are super floppy and can make a big mess.
Ingredients:
2 1/2 Cups Oats
1 Cup Plain Yogurt (Greek or Regular)
2 Eggs
3/4 Cup Sugar
1 1/2 teaspoons Baking Powder
1/2 teaspoon Baking Soda
2 Bananas
Preheat oven to 400°F.
Prepare a 12-cup muffin pan by spraying with non-stick spray or lining with silicone or foil liners.
Blend together oats, yogurt, eggs, sugar, baking powder, baking soda and bananas together in a blender or food processor.
Pour into prepared muffin pan.
Bake until a toothpick inserted in the center comes out clean, about 20-25 minutes.
Yield: 12 Muffins
-Recipe adapted from Dashing Dish-
Tags: Banana, Bananas, Breakfast, Dessert, Gluten Free, Muffins, Vitamix