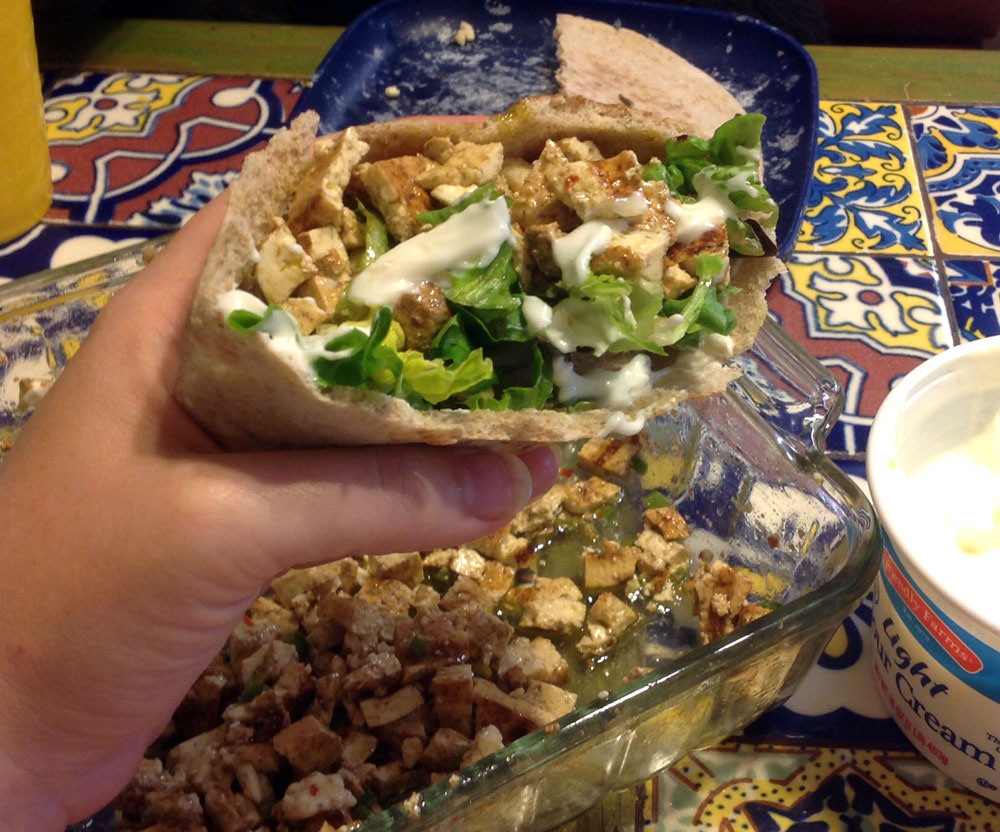 Spicy, juicy, flavorful, we love these!!!
Ingredients:
Piri Piri:
16 oz Extra Firm Tofu, cut into 12 slices, place between layers of paper towels to absorb extra moisture
1/4 cup Extra Virgin Olive Oil
2 Tablespoons Vinegar (I use half balsamic and half white, use whatever kind you like)
1 Jalapeño, seeded and minced
1/4 teaspoon Red Pepper Flakes
1/4 teaspoon Salt
1 teaspoon Minced Garlic (one clove)
Extras:
3 Whole Wheat Pitas, split in half to form 2 pockets from each pita.
Shredded Lettuce or Spinach
1-2 Tablespoons Crumbled Feta Cheese
Sour Cream, for serving
In shallow dish mix together marinade and place tofu slices in dish, turning to coat.
Let marinate at room temp for 10 minutes.
Heat grill pan (I use the George Foreman Grill)
Remove tofu from marinade and reserve.
Grill 2 minutes on each side or until heated through with grill marks.
Dice up cooked tofu and return to marinade, mix to combine.
To serve:
If using feta, mix into tofu mixture.
Stuff each pocket with lettuce or spinach and tofu mixture, top with sour cream if using.
Serve immediately.
Yield: 3 servings, one full pita each