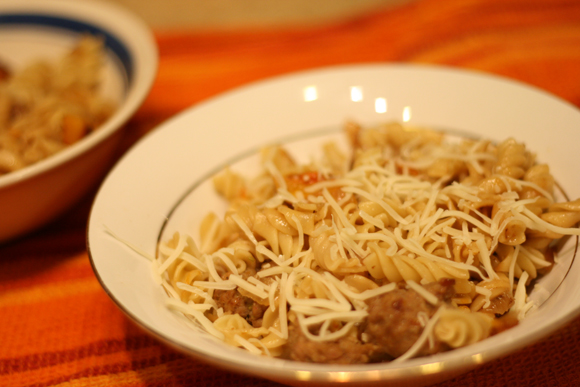 Ingredients:
12 oz Rotini or other short cut pasta
3 Tablespoons Extra-Virgin Olive Oil
3/4 lbs Butternut Squash, peeled and cut into 1/2 inch pieces
Salt & Pepper
1 Onion, diced
1 lb Hot Italian Sausage, casings removed
Shredded Mozzarella, to sprinkle on top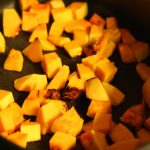 Bring a large pot of water to a boil.  Once boiling, add some salt and the pasta.  Cook until al dente.  Reserve 1 cup of the starchy cooking water before draining.
While the water is coming up to a boil.  Heat 2 Tablespoons olive oil in a large skillet over medium high heat.  Add the squash, season it with salt and pepper.  Cook until lightly brown and tender, about 8 minutes.  Reserve the squash on a plate.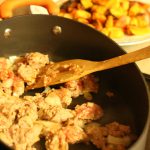 To the same skillet, add 1 Tablespoon olive oil and the sausage.  Break up the sausage a bit and sauté until thoroughly cooked and browned.  Return the squash to the skillet.  Add the 1 cup of reserved pasta cooking water.  Simmer for a couple minutes to reduce the liquid.  Fold in the pasta.
Serve with shredded cheese on top.
-Recipe is adapted from KitchenDaily –
Serves: 4