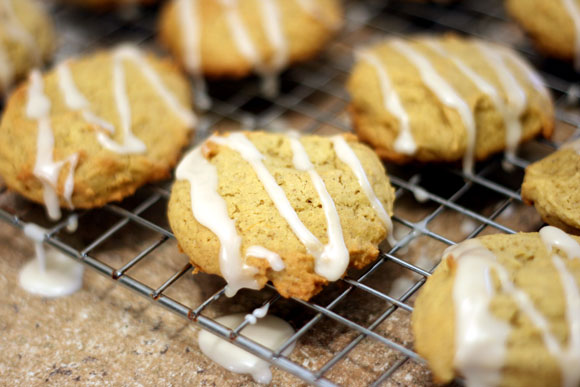 The deliciousness of fall is in full swing!
Ingredients:
2 1/2 Cups Flour
1 teaspoon Baking Soda
1 teaspoon Baking Powder
1 teaspoon Cinnamon
1/2 teaspoon Ground Nutmeg
1/2 teaspoon Kosher Salt
1 1/2 Cups Sugar
1/2 Cup Butter, softened
1 Cup Pumpkin Puree
1 Egg
1 teaspoon Vanilla Extract
Glaze:
2 Cups Powdered Sugar, sifted
3 Tablespoons Milk
1 Tablespoon Melted Butter
1 teaspoon Vanilla Extract
Preheat oven to 350°F and lightly grease 2 baking sheets.
Whisk together flour, baking soda, baking powder, cinnamon, nutmeg and salt together in a bowl.
In the bowl of an electric mixer, combine sugar and butter until fully blended. Mix in pumpkin, egg and vanilla.
Slowly add the flour mixture while mixing until just combined.
Drop dough by rounded tablespoon onto baking sheets Bake until edges start to brown, about 15-18 minutes.
Prepare the glaze while the cookies are baking by stirring together all glaze ingredients in a bowl until smooth. Add additional milk as needed to make a smooth glaze that will drizzle easily.
Let cookies rest on baking sheets for 2 minutes before transferring to cooling racks. Drizzle the glaze over the cookies.
Yield: about 36 Cookies
-Recipe from Very Best Baking–