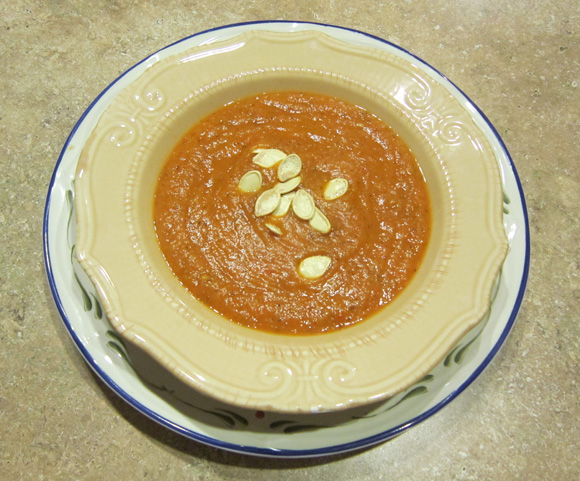 Here is a good way to use up some leftover pumpkin puree.  Oh, and don't sprinkle roasted pumpkin seeds on top like I did because they instantly turned really chewy and hard to eat.  They do look pretty though!
Ingredients:
2 ½-3lbs Tomatoes, cut into large chunks
6 Cloves Garlic, finely grated
1 Onion, Sliced
Extra Virgin Olive Oil, to drizzle
Salt & Pepper
3 Cups Chicken Stock
2 Bay Leaves
2 Tablespoons Dried Basil
2 Cups Pumpkin Puree
Preheat oven to 450°F and cover a baking sheet with foil for easy clean up.
Place the tomato chunks, garlic and onion on the prepared baking sheet.  Drizzle with olive oil and season with salt and pepper.  Roast for 45 minutes.
Transfer the roasted tomatoes, garlic and onions to a large soup pot.  Add the chicken stock, bay leaves, basil and pumpkin puree.  Bring to a bubble, reduce heat and simmer for about 15 minutes.
Remove the bay leaves.  Puree until smooth with an immersion blender.  Adjust seasonings with salt & pepper if needed.
Serves: 4