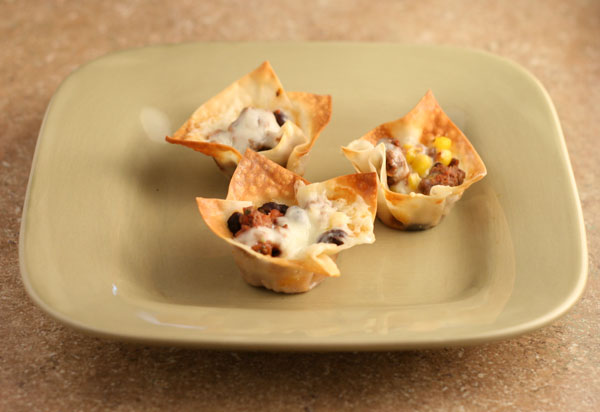 These mini wonton tacos are perfect for a party, potluck, or could even be a fun way to mix up taco night. They have all the taco fixings mixed in. Just sit out some hot sauce and sour cream. You could even get fancy and top them with cilantro.
Ingredients:
1 lb ground beef
1 small onion, finely diced
1 packet taco seasoning
1 can Rotel
1 cup frozen corn
14.5 oz can black beans, rinsed and drained
1 cup Monterey Jack cheese, shredded
1 package wonton wrappers, about 48 wrappers
Preheat oven to 350°F. Lightly grease 2 mini muffin pans with cooking spray. Line each mini muffin cup with a wonton wrapper.
Heat a large skillet over medium high heat. Add onion and beef, cooking until onion is soft and beef is browned. Mix in taco seasoning, Rotel, corn, and beans. Heat throughly.
Divide the taco filling into the wonton wrappers in the muffin pans. Top with cheese and bake until cheese is melted and wonton wrappers are golden brown, about 15 minutes.
Yield: 48 mini wonton tacos