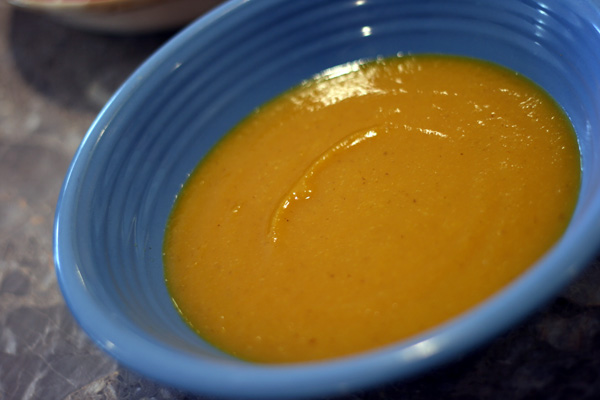 Butternut Squash soup is full of fall flavor.  I've made butternut squash soup before and it hasn't turned out very good at all…either way too thin or just terrible flavor.  This was amazing though!  It was thick, rich and had awesome flavor.  I hope you really enjoy this Butternut Squash Soup as much as I do!
Ingredients:
1 Medium-Large Butternut Squash, peeled, seeded and chopped
1 Medium Onion, chopped
1 Asian Pear, peeled, cored and chopped
2 Cups Chicken Broth
1 Cup Water
1/2 teaspoon Curry Powder
1 teaspoons Flax Seeds
Salt & Pepper to taste
Add squash, onion, Asian pear, broth, water, curry powder and flax seeds to a slow cooker.  Cook on low for 6-8 hours or on high for 3-4 hours until squash is very tender.
Puree until smooth with an immersion blender or in batches in a blender.  Season to taste with salt and pepper.
Yield: Slow Cooker FULL of soup!