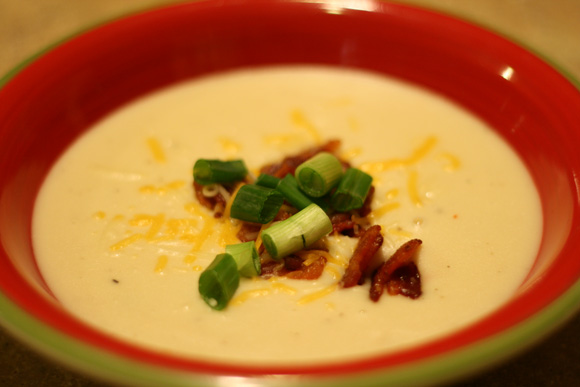 Nothing welcomes the beginning of winter like a big bowl of soup!
Ingredients:
5 lbs Potatoes, peeled and chopped in 2-inch chunks
1 Small Onion, diced
4 Cloves Garlic, finely grated
1 teaspoon Salt
1/2 teaspoon Black Pepper
1/2 teaspoon Crushed Red Pepper Flakes
2 Quarts Chicken Broth
2 (8-ounce) Packages Cream Cheese, to add at the end
For Garnish: Crumbled Bacon, Chopped Green onions, and Shredded Cheddar Cheese
Combine the potatoes, onion, garlic, salt, pepper and crushed red pepper in a slow cooker.  Cook on low for 8 hours or high for 4 hours.
Blend together with an immersion blender until creamy.  Cut the cream cheese into smaller chunks and add to the soup.  Cook for 30 minutes on high, stirring frequently to melt in the cheese.  Blend again with the immersion blender to break up any remaining chunks of cream cheese.
Season with salt and pepper to taste.
Serve with crumbled bacon, green onions and shredded cheddar cheese on top.
Serves: about 10
-Recipe comes from A Year Of Slow Cooking–