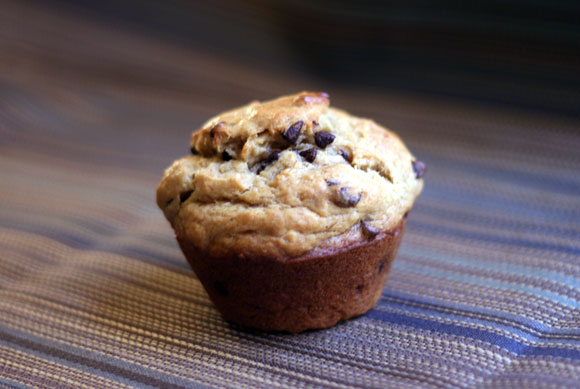 Peanut Butter Chocolate Chip Muffins are exactly what they sound like – Delicious!
Ingredients:
4 Overripe Bananas
1/2 Cup Brown Sugar
1/4 Cup Honey
3/4 Cup Creamy Peanut Butter
2 Eggs
1/3 Cup Canola Oil
1 teaspoon Vanilla Extract
2 Cups Bread Flour
1 teaspoon Baking Soda
1/2 teaspoon Kosher Salt
1/2 Mini Chocolate Chips
Preheat oven to 400°F.  Lightly grease a 12-cup muffin tin or line with paper liners.
Combine bananas, brown sugar, honey, peanut butter, eggs, oil, and vanilla together in the bowl of an electric mixer.  Mix until smooth.
Add flour, baking soda and salt, mixing until combined.  Stir in chocolate chips.
Divide batter between the 12 muffin cups.
Bake until golden brown and a toothpick inserted in the muffins comes out clean, about 18-20 minutes.
Yield: 12 Muffins
-Recipes from two-tarts.com–