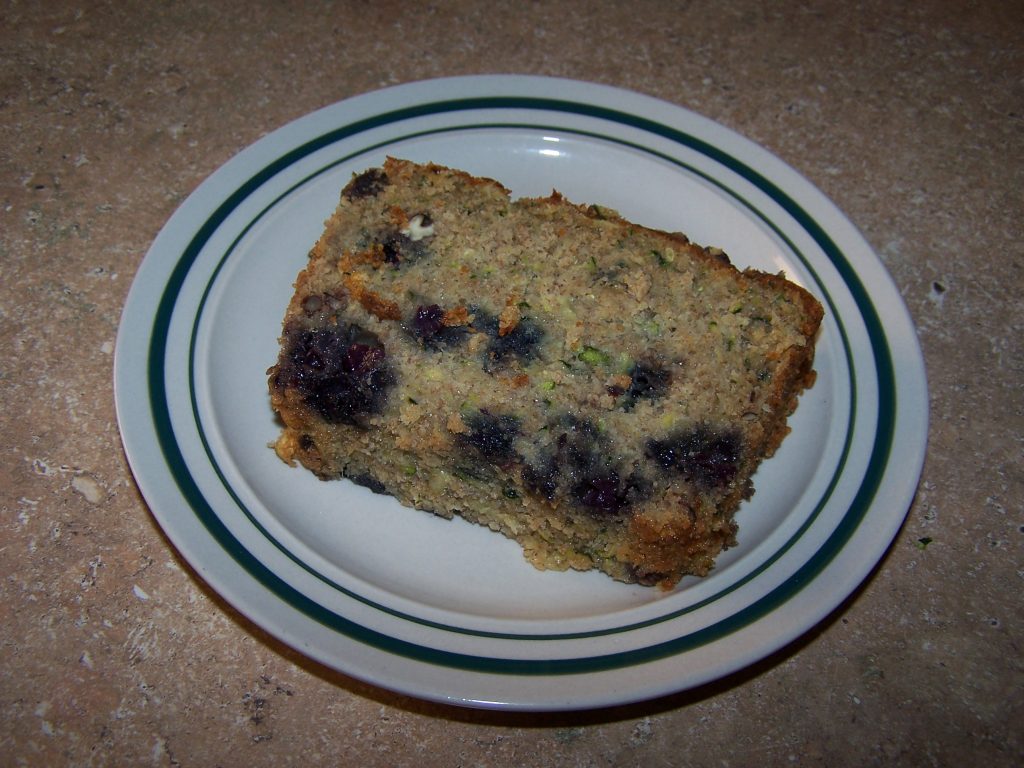 I originally made this bread just because I really love zucchini bread, but then realized that I could actually get Chloe to eat vegetables if they are hiding in bread!  Amazing!!  She really enjoyed this bread.  The blueberries made it very moist, so make sure you store it in the fridge if you aren't going to eat in all in a couple days like we did.  This recipe comes from Kayln's Kitchen.
Ingredients:
1 3/4 cups Whole Wheat Flour
2 tsp. Baking Powder
1/2 tsp. Baking Soda
1/2 tsp. Ground Cinnamon
1/4 tsp. Salt
1 cup Sugar
2 large Eggs
1/2 cup Canola Oil
1 tsp. Vanilla
2 Medium Zucchinis, coarsely grated
1 cup fresh or thawed Blueberries
1/2 cup chopped Pecans
Preheat oven to 350°F.  Spray a loaf pan with non-stick cooking spray.
Stir together the flour, baking powder, baking soda, cinnamon, and salt together in a bowl.
Beat together the sugar and eggs in a large bowl or stand mixer for about 5 minutes.  Stir in the oil and vanilla, then add the zucchini.  Stir until combined.
Add the flour to this mixture and stir to combine thoroughly.  Fold in the blueberries and pecans. Pour into the prepared loaf pan.
Bake until browned on top and a toothpick inserted in the center comes out clean, about 60-70 minutes.
Cool and enjoy!
Yield: 1 loaf