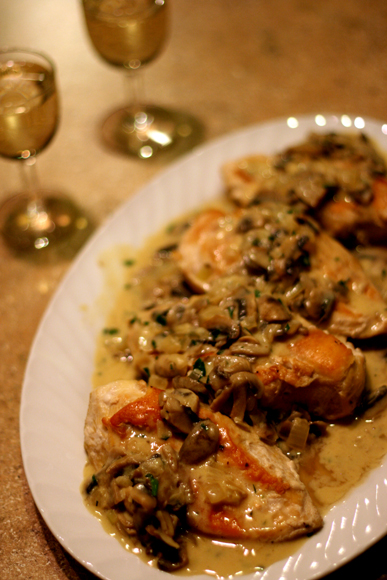 I've been watching a lot of America's Test Kitchen and trying out some of their recipes.  This one looked amazing, so I just had to try it.  It was certainly impressive and something to make for company.  You can enjoy the rest of the bottle of wine with dinner too!
Ingredients:
1 Tablespoon Butter
1 Tablespoon Olive Oil
4 Chicken Breasts (boneless/skinless)
Salt & Pepper
1 lb Mushrooms, sliced
1 Onion, chopped
1/4 cup White Wine
1 Garlic Clove, finely grated
1 Tablespoon Flour
1 1/2 Cups Low-Sodium Chicken Broth
1/3 Cup Sour Cream
1 Egg Yolk
2 teaspoons Lemon Juice
1/2 teaspoon Nutmeg
2 teaspoons Chopped Tarragon
Heat the butter and olive oil in a skillet over medium-high heat.  Pat the chicken breasts dry with a paper towel then season with salt and pepper.  Brown the chicken breasts, about 4 minutes on each side.  Reserve on a plate.
Add the mushrooms, onions, and wine.  Cook for 8-10 minutes to soften.  Stir in the garlic and flour, cooking for 1 minute.  Add the chicken broth and bring to a bubble.  Return the chicken to the skillet along with any juices from the plate, cover and turn heat to medium.  Simmer for 5-10 minutes to fully cook the chicken.  The chicken should be at about 160°F.  Remove the chicken to a plate and cover with foil.
Measure out 1/2 cup of the sauce into a bowl.  Whisk the sour cream and egg yolk into the bowl.  Pour back into the skillet and stir to combine.  Stir in the lemon juice, nutmeg and tarragon.
Serve chicken with the mushroom sauce on top.
Serves: 4
-Recipe from America's Test Kitchen–