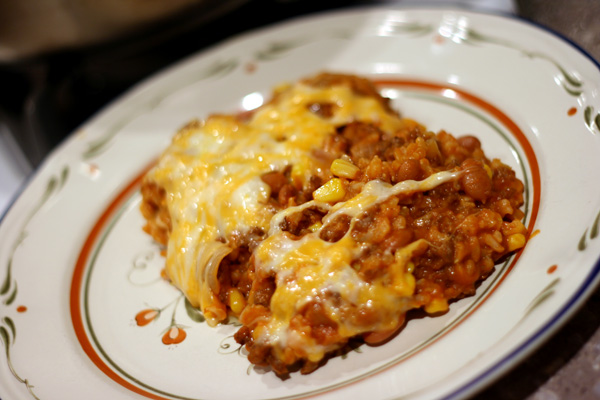 Enchilada Rice makes enchiladas so much easier!  I'm not saying this is going to replace enchiladas completely, but they sure are amazing!
Ingredients:
1 1/2 Cups Brown Rice
1 lb Ground Beef
1 Onion, thinly sliced
16 oz Can Pinto Beans, drained and rinsed
1 Cup Frozen Corn
Salt and Pepper to taste
1 Cup Shredded Colby Jack Cheese
Sauce-
1 Tablespoon Olive Oil
2 Tablespoons Flour
2 1/2 Tablespoons Chili Powder
1/2 teaspoon Cumin
1 teaspoon Garlic Powder
1 teaspoon Onion Powder
1/4 teaspoon Kosher Salt
1/2 teaspoon Cayenne Pepper
15 oz Can Tomato Sauce
1 1/2 Cups Chicken Broth
Put rice in a large pot with 3 3/4 Cups water.  Bring to a boil, reduce heat and simmer until rice is tender, about 45 minutes.
Prepare the enchilada sauce by placing all ingredients in a blender and mixing until smooth and warmed.  Set aside.
Brown the beef in a large skillet over medium/high heat.  Drain off all but 1-2 Tablespoons fat from the pan and reserve beef on a plate.  Add onion to the pan, cooking until softened.
Add the beef back to the skillet along with beans, corn, enchilada sauce, and rice.  Season to taste with salt and pepper.  Cook until heated through.
Top with cheese and let melt before serving.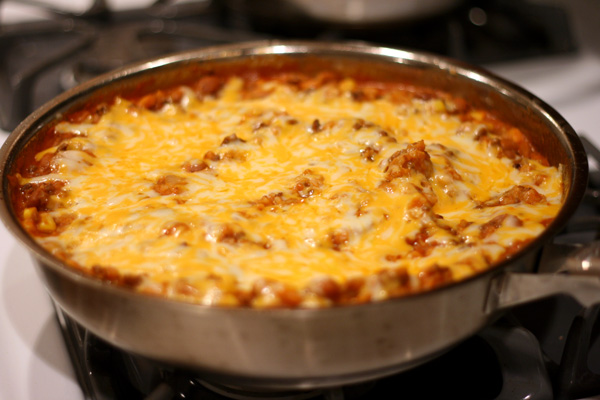 Yield: 6 Servings
-Recipe inspired by Lynn's Kitchen Adventures–