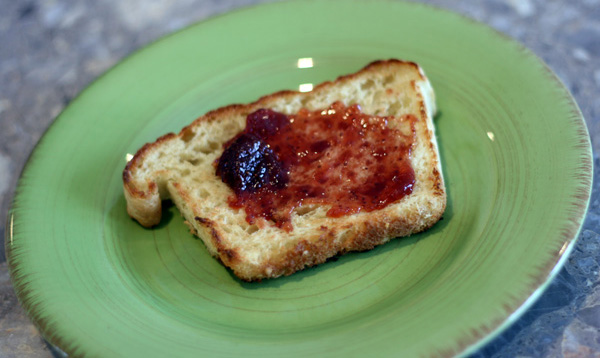 I have always enjoyed a good English Muffin with strawberry preserves on it for breakfast.  While searching for the perfect English Muffin recipe, I came across this amazing idea of English Muffin Bread.  It's brilliant!  No shaping the dough into perfect, or not so perfect, muffins.  The recipe makes four loaves of English Muffin Bread, which sounds like a lot until you have tried it.  You may start to wonder why it only makes four loaves!  I will include a scaled down ingredient list for making just one loaf of this delicious English Muffin Bread because I don't expect you to make four loafs without trying it out first.  This bread is incredibly easy to make and comes together very quickly.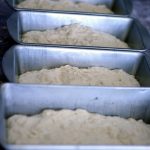 Ingredients:
5 1/2 Cups Warm Water
3 Packets Active Dry Yeast (6 3/4 teaspoons)
2 Tablespoons Salt
3 Tablespoons Sugar
11 Cups Bread Flour
Preheat oven to 350°F and grease 4 loaf pans with non-stick cooking spray.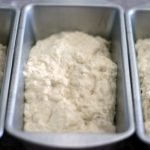 Whisk together water, yeast, salt and sugar.  Stir in the flour until just combined.
Divide the dough between the 4 loaf pans.  Cover with a tea towel and allow to rise to the top edge of the pan, about 30-60 minutes.
Bake until golden brown, about 35-45 minutes.
Cool completely before slicing.
Yield: 4 Loaves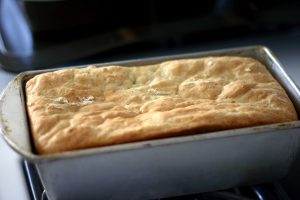 Ingredients for making one loaf: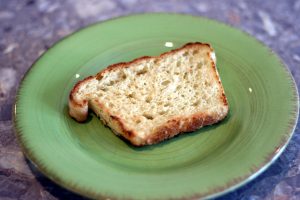 1 1/4 Cup plus 2 Tablespoons Warm Water
1 teaspoons plus (heaping) 1/2 teaspoon Active Dry Yeast
1/2 Tablespoon Salt
2 1/4 teaspoons Sugar
2 3/4 Cups Bread Flour
-Recipe from One Good Thing by Jillee–