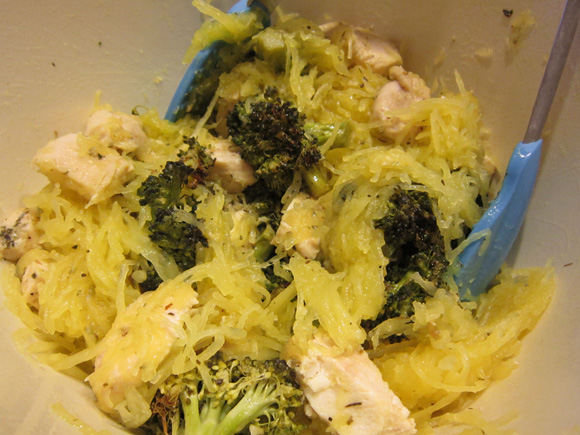 This is a meal that made me rethink spaghetti squash.  I thought I didn't like spaghetti squash, but in reality I really just didn't like how it was prepared before.  So, if you think you don't like spaghetti squash, why not give this recipe a try and see if it changes your mind too!
Ingredients: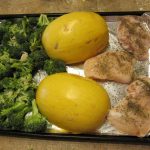 1 Spaghetti Squash
Extra Virgin Olive Oil
Salt & Pepper
1 Head Broccoli, cut into florets
2 Cloves Garlic, finely grated
3 Chicken Breasts
1-2 Tablespoons Italian Seasoning
Preheat oven to 375°F and line a baking sheet with foil.
Half the squash lengethwise, drizzle with olive oil and season with salt & pepper.  Place on the baking sheet cut side down.  Bake for 15 minutes.
Add the broccoli to the baking sheet, drizzle with olive oil, toss with the garlic and season with salt and pepper.  Coat the chicken with olive oil and season with salt, pepper and Italian seasoning.  Place on baking sheet and return to oven.  Bake another 20 minutes or until the chicken is cooked and the squash is soft.
Scrape the spaghetti squash out into a large bowl.  Chop the chicken and add it to the bowl along with the broccoli.  Toss to combine.
Serves: 4